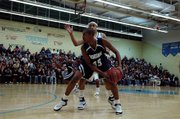 <b>School</b>: Washington-Lee High School
<b>Mascot</b>: Generals.
<b>School Colors</b>: Blue and gray.
<b>Athletic Director</b>: Carol Callaway, 703-228-6207.
<b>Football Coach</b>: Josh Shapiro, second year.
Washington-Lee went 4-6 overall and 3-3 in the National District in Shapiro's first season. The Generals, which went on a rare three-game winning streak, recorded their first non-district win since 2004 (a 21-14 victory over McLean), and narrowly missed the recently expanded regional playoffs, continuing their 32-year playoff drought.
<b>Boys Basketball Coach</b>: Bobby Dobson.
<b>Girls Basketball Coach</b>: Angie Kelly.
<b>Baseball Coach</b>: Doug Grove.
<b>Most Successful Programs</b>: Washington-Lee's baseball team, under longtime coach Doug Grove is perennially strong, having won a district title in 2005, and five in six years in the late 1990s. Though the Generals had a losing season in 2008, they still made their sixth straight region tournament appearance. During the school's 81-year history, Washington-Lee has won 35 district titles, five Northern Region championships and three state titles. The crew team is also renowned and has produced three Olympians.
<b>Historic Achievements</b>: From 1955-65, Washington-Lee's boys basketball squad won four Northern Region titles and three state championships under head coaches Morris Levin and Ralph Guinther. In 1963, Ed and John Hummer led the 1963 Generals to a 24-0 season by defeating Douglas Freeman (Richmond), 44-41, in the state championship. Washington-Lee also touts the most Super Bowl participants of any Northern Region school, which includes two-time winners Jake Scott (Miami Dolphins) and Reggie Harrison (Pittsburg Steelers).
<b>Famous Athletic Graduates</b>: Washington-Lee's most famous athletic graduate isn't remembered for his athletic prowess, though famed actor Warren Beatty (Class of 1955) was a solid football player. Beatty managed to pave the way for the school's football state title in 1956 and 1960. Beatty was a senior class officer, and his older sister, actress Shirley MacLaine, also attended Washington-Lee. Actress Sandra Bullock (Class of 1982) was a cheerleader as well.
<b>Fun Fact</b>: The school, which was named after Virginians George Washington and Confederate general Robert E. Lee, was built in 1924, and won a share of its first state championship five years later, when it tied Big Stone Gap. A few years later, a Thanksgiving tradition started when Washington-Lee faced off with archrival George Washington for the Old Oaken Bucket. According to the 1937 yearbook, the 1936 game drew the largest crowd ever to witness a game in Northern Virginia. The series was discontinued when George Washington closed in 1970. The Generals won the last game in the series.