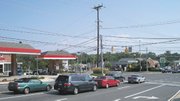 Mike Mitchell remembers a time when Potomac used to be a more rural, quiet place. The time was when Tuckerman Road was a dirt road and there were no bridges at the intersection of Glen Road and South Glen Road — cars had to drive through the Kilgore branch stream and doing so wasn't an option during storms.
"This was country," said Mitchell last week in his small office in the back of Mitch & Bill's Exxon at the intersection of Falls and River Roads. "I mean countrified."
Then again, he also remembers when Potomac Village was quite the party scene. Mitch & Bill's used to shut its doors to business and open them up to host gatherings of employees and customers from around the area; the last party Mitchell recalls included boxer Sugar Ray Leonard, who took a night off from training to come by for a beer. Those days are gone.
"Because of that word 'liability' you can't do that anymore," said Mitchell. In the 45 years that Mitchell has worked at Mitch & Bill's — his father Clyde "Mitch" Mitchell opened the station in 1949 with his friend Bill Shoemaker — he has seen a lot change. So too have some of his employees, many of whom have been there for 10 years and some even longer.
"I was here before they cut the hill down in the intersection [of Falls and River]," said technician Harry Waters. Waters isn't sure exactly how long he's been there, but it's been more than 20 years. The intersection was graded down in 1991 and four-way stop lights were put up to enhance driver safety. Before that, cars could sometimes catch air going over the hill. "It was scary watching dump trucks go over that intersection," Waters recalled.
EVEN 20 OR SO years ago Potomac had a much smaller feel, said Waters.
"It used to be more small townish, you used to know everybody," he said. Back then, Waters said, he used to know the majority of people that came to the station but today that number has dwindled dramatically. "It's a much, much smaller portion. I don't feel like I know hardly anybody anymore."
That said, Waters and Mitchell said that they routinely see second-generation Potomac families at their station and it isn't uncommon to see Mitchell out front of his station talking to people as they pump their gas.
The pattern of repeat customers might have something to do with the expertise and camaraderie of the staff. Manager Sean Ridge has been on the job for over 20 years and technician Ted Heaton has been there since 1994. Even oil change specialist Dario Mejia has been on board for 13 years.
"I'm like the little Dutch guy that puts his finger in the dam — I do a little bit of everything," said Ridge.
Waters said that Heaton is about the best mechanic he's ever seen.
"A lot of mechanics might be good at one thing or another … but usually you don't have someone who can diagnose it, fix it, and get it right the first time," said Waters. "There's a very small percentage of guys out there that can do that."
Doing that has gotten harder as cars have become more reliant on computer systems, said Heaton.
"I've been doing this for 30 years and for 20 years you could do everything," he said. "That's kind of fizzled."
GAS IN POTOMAC typically costs significantly more than in other areas of the county, a result of the high prices the oil companies charge their franchises to distribute gasoline, said Mitchell. Today's cars are increasingly designed to rely on parts and service that only dealerships can provide, and while technicians at service stations still can do a large amount of service on any and all types of cars, going the extra mile helps separate Mitch & Bill's and helps them to continue to be successful.
"We still have full-service here, we still help people check under the hood, check their oil … check their tires," said Mitchell.
For Curtis Robinson, full-service attendant and roadside assistance specialist — and the rookie of the crew with only five years on staff — it's simple not only why Mitch & Bill's has been around so long, but why he likes it there.
"I have my regular customers, and I like my crew, the crew I'm with," he said.
Time has flown for Mitchell, who started working at his father's station when he was 13, cleaning the bathroom and pumping gas.
Heaton joked that Mitchell's automotive and business knowledge still hasn't progressed much from those early years.
"Somewhere in this article I want you to mention that every day is his first day," Heaton said.
"We love playing with our owner," said Waters.
The station is his now, 45 years later, having taken over from Mitch & Bill in the 1980s, but Mitchell's operation still has a family atmosphere.
"We feel like family up here we've been here for so long," said Mitchell.