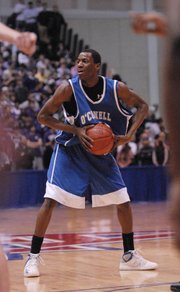 <b>School</b>: Bishop Denis J. O'Connell High School
<b>Mascot</b>: Knights.
<b>School Colors</b>: Blue and silver.
<b>Athletic Director</b>: Darrell Snyder, 703-237-1455
<b>Football Coach</b>: Steve Trimble.
The Knights had a disappointing season in the uber-competitive Washington Catholic Athletic Conference, finishing 3-7 overall and 2-5 in the conference in 2007. O'Connell was outscored by 100 points, but were heavy on underclassmen and should be ready to compete this coming season.
<b>Boys Basketball Coach</b>: Joe Wootten.
<b>Girls Basketball Coach</b>: Jimmy Brown.
<b>Baseball Coach</b>: Rick Hart.
<b>Softball Coach</b>: Tommy Orndorff.
<b>Most Successful Programs</b>: The girls basketball program recently won four city titles in 12 years, but since Joe Wootten was hired nine years ago, the boys basketball team has garnered the notoriety. Wootten, who has overseen 21 former players play in college, has led the Knights to four Virginia Independent School Athletic Association state championships, three Alhambra Catholic Invitational Tournament crowns and one WCAC tournament title.
<b>Historic Achievements</b>: The Knights' girls soccer program is an annual power, but the real dynasty is in softball, which eclipsed the 20-win plateau for the 16th straight year in 2008. The Knights had their 121 straight wins in WCAC regular-season play — dating back to 1999 — halted by Paul VI last year. From 1997-1999, the O'Connell finished 106-2 — even setting a national record for scoreless innings in 1998.
<b>Famous Athletic Graduates</b>: Eric Metcalf (Class of 1985) set school records for the long jump, triple jump, 100, 200, and 400 meter runs before becoming a wide receiver for the University of Texas. At UT, he held five Longhorn records and was the NCAA in the top five in 15 other categories, and went onto an NFL career with Cleveland, Carolina Panthers and Washington. Also, former NFL players Bob Asher (Class of 1996), Terrence Wilkins (Class of 1995) and Casey Crawford (Class of 1995) are former Knights. Kate Ziegler (Class of 2006) will swim in the 2008 Olympics.
<b>Fun Fact</b>: Jason Clark (Class of 2008) averaged 20.5 points, 10.1 rebounds and 5.9 steals in his senior season, when O'Connell went to the finals of the three prestigious tournaments. Clark, who signed a scholarship to attend Georgetown University, finished his career with 2,162 points, 844 rebounds and 308 steals, and was named to all-state and to the All-WCAC first-team for three consecutive seasons.