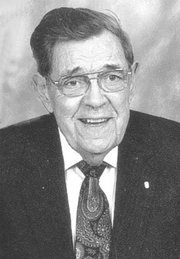 Bruce Byron Harding, 85, of Lynchburg, died Monday, July 7, at his home.
He was born April 18, 1923, in Havelock Township, Chippewa County, Minn., and was a son of the late Seth and Ella Olson Harding. He was preceded in death by a brother, Charles C. Harding.
He graduated in 1944 with a B.S. degree in animal husbandry from the College of Agriculture, Forestry and Home Economics at the University of Minnesota. He worked for the U.S. Department of Agriculture for 34 years and ended his career working in Washington, D.C., as eastern area supervisor of Livestock Market News.
Harding was a life-long Methodist and while living in Springfield was an active member of Springfield United Methodist Church, Springfield Methodist Men and Springfield Squares. After retiring to Lynchburg in 1981 he was a member of Timberlake United Methodist Church. He was also an active member of the Exchange Club and fingerprinted thousands of children in local schools as one of the club's service activities, participated in Habitat for Humanity projects in Virginia and Florida and made a quarter of a million wooden crosses that went to local churches and Gleaning for the World.
Surviving are his wife of 62 years, Marilyn Noper Harding; three daughters, Estelle Elder of Forest, Gail Harding of Patrick Springs and Linda Harding of Lynchburg; five grandchildren, Kevin Elder and wife Heidi of Forest, Mark Elder of Galveston, Tex., and Jessica, Joshua and Joel Graham, all of Lynchburg; and one brother, Russell Harding of Milton, Wash. Funeral services will be conducted Saturday, at 10 a.m., at Timberlake United Methodist Church by the Revs. Dr. Rob Colwell and Dr. Tom Bryant. Burial will follow in Fort Hill Memorial Park in Lynchburg.
The family will receive friends Friday, from 7-9 p.m., at Tharp Funeral Home in Lynchburg.
Contributions may be made to Timberlake United Methodist Church's memorial fund, Peakland United Methodist Church for Habitat, the Stuart Presbyterian Church's flower fund, P. O. Box 944, Stuart, VA 24171, The Exchange Club of Lynchburg's child abuse prevention fund, P. O. Box 774, Lynchburg, VA 24505, and Gleaning for the World.
More like this story