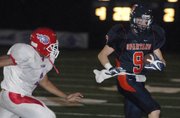 Bryn Renner, the rising senior quarterback at West Springfield, is currently in Southern California at the State College EA SPORTS Elite 11 regional camp, after his selection was made public last week.
The Elite 11 quarterback event is an invitation-only camp that provides the nation's top high school quarterbacks with high-level instruction, and is generally considered as the premier amateur prep quarterback camp. The Elite 11 camp is held annually July 21-24.
The high school quarterbacks were selected through an extensive evaluation process, which includes film research and in-person and telephone interviews. More than 1,000 quarterbacks are evaluated annually before 11 participants are invited.
Renner impressed scouts at a satellite camp in Las Vegas, Nev., where he captured the accuracy challenged and was awarded the golden jersey.
Renner committed to the University of North Carolina on March 27 following an unofficial visit. Other schools interested in the 6-foot-3, 190-pound Renner included Virginia, Virginia Tech, and Maryland among others.
Renner was an All-Northern Region selection as a sophomore wide receiver, but burst onto the recruiting scene with a stellar junior season when he moved to quarterback. He accounted for over 3,300 yards of offense and 42 touchdowns while leading the Spartans — who are coached by his father Bill Renner — to a 10-3 season and berth in the region championship.
Bill Renner graduated from Lee, went to Virginia Tech and as a 6-foot, 198-pounder, spent two years as a punter for the Green Bay Packers. Renner founded 4th Down Sports, which offers individualized instruction
In 2007, he completed 214-of-339 attempts (63.1 percent) for 2,749 yards, 32 touchdowns and seven interceptions. He also carried the ball 124 times for 598 yards — a 4.8-yard per carry average — and 10 additional touchdowns.
Renner joins Tajh Boyd (committed to West Virginia) as the seventh Virginia native to participate in the Elite 11 camp over the past decade. It's the third straight year that two Virginia quarterbacks are represented. Westfield's Mike Glennon (N.C. State) and E.J. Manuel (Florida State) went in 2007 and West Springfield's Peter Lalich (Virginia) and Tyrod Taylor (Virginia Tech) participated in 2006.
The other nine 2008 participants include Richard Brehaut (Los Osos, Rancho Cucamonga, Calif.), Allan Bridgford (Mission, Viejo, Calif.), Raymond Cotton (Meade, Fort Meade, Md.), Garrett Gilbert (Lake Travis, Austin, Texas), Andrew Maxwell (Midland, Midland, Mich.), A.J. McCarron (St. Paul's, Mobile, Ala.), Zach Mettenberger (Oconee County, Watkinsville, Ga.), Aaron Murray (Plant, Tampa, Fla.), Tom Savage (Cardinal O'Hara, Springfield, Pa.) and Eugene Smith (Miramar, Miramar, Fla.).
All campers are rising seniors and 10 of the 11 have verbally committed to colleges, including two (Mettenberger and Murray) to the University of Georgia. Smith is the only quarterback yet to make a college commitment.
The Elite 11 quarterbacks compete against each other and receive tutelage from top college counselors and Elite 11 coaching staff including Chase Daniel (Missouri); Colt McCoy (Texas); Curtis Painter (Purdue); Bobby Reid (Texas Southern); Mark Sanchez (University of Southern Cal) and Matt Stafford (Georgia).
Past collegiate counselors also include a host of current NFL players: Drew Brees (New Orleans Saints), Carson Palmer (Cincinnati Bengals), Ben Roethlisberger (Pittsburgh Steelers), Jay Cutler (Denver Broncos), Matt Schaub (Houston Texans) and Aaron Rodgers (Green Bay Packers).
Notable Elite 11 alumni include current NFLers Vince Young (Tennessee Titans), Matt Leinart (Arizona Cardinals), Kellen Clemens (New York Jets) , Brodie Croyle (Kansas City Chiefs), Derek Anderson (Cleveland Browns), Kyle Orton (Chicago Bears), Troy Smith (Baltimore Ravens), Trent Edwards (Buffalo Bills), JaMarcus Russell (Oakland Raiders), John David Booty (Minnesota Vikings), Andre Woodson (New York Giants) and current Heisman Trophy winner Tim Tebow (University of Florida).