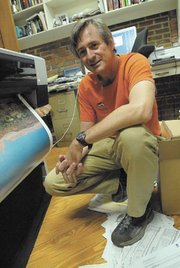 What was once the cluttered office of an elected official has been transformed into Alexandria's newest art gallery, a space where former Vice Mayor Andrew Macdonald can launch the next incarnation of his public persona — art mogul. Over the past few months, Macdonald has been quietly finding his way back into public life after his unexpected resignation from City Council last year, renovating his old office into a gallery and filling a vacant position on the board of the Old Town Civic Association. He's also hard at work with friends from the Athenaeum to document the history of the building. On Aug. 8, he will host the grand opening of AHM Gallery, a quiet second-floor over Old Town Coffee, Tea and Spice that takes its name from Macdonald's initials.
"Once I got rid of all the clutter — the political clutter — I started to think about how I could create an art gallery that had a real perspective," said Macdonald, an Alexandria native who was a member of the City Council from 2003 to 2007. "It took a long time to decide what I wanted to focus on."
The tagline of AHM Gallery is "celebrating authentic places," a mission statement Macdonald said will inform the choices he makes in terms of what kind of art will be displayed. He's already talked to some friends from Greenpeace about displaying an exhibit featuring photographs of whaling. And he recently spent some time in Antarctica documenting the ravages of global warning. Other potential themes could include some of Macdonald's longtime passions, such as environmental conservation and historic preservation. The first show will take place in August, with an opening reception slated for Aug. 8.
"The gallery is a business, but I also have a perspective about it," Macdonald said as a Van Morrison CD played quietly in the background. "I have a particular love of photography, but I don't want the gallery to necessary be limited to photography."
<b>MACDONALD IS</b> a well-regarded photographer in his own right who made a name for himself as an artist before launching a political career with an unsuccessful campaign in 2000 and then getting elected in 2003. When his personal life began falling apart in early 2007, the strains of public life became too much for him and he abruptly resigned, prompting a special election in which Justin Wilson was elected to fill the remainder of Macdonald's term. After the resignation, Macdonald's wanderlust took him to Antarctica, where he met an Australian photographer named Valery Muhin on a cruise ship.
Macdonald was lecturing on geology; Muhin was driving zodiacs. Both were working on the ship so they could spend their free time photographing the Antarctic wilderness. The two struck up a friendship, and now Muhin's photographs of aboriginal life in Australia will become the premiere show at the AHM Gallery. The show opens with a 6 p.m. reception on Aug. 8 and will run at the gallery through Sept. 15.
"A lot of these traditional communities are collapsing," Macdonald said as he scans a series of Muhin's images. "These photographs have an authentic quality to them that captures the kind of perspective I want that gallery to have."
The gallery is located in a building known as the "Carriage House" although that was never the purpose of the structure. It was built in 1830 by the Atchison Lumber Company as a storage warehouse for windows and sashes. Macdonald first acquired the second-floor studio space in 1998. Although he intended to use the space as a gallery, he ended up using the space as an office as his public career dominated an increasing amount of his time.
"A gallery is a retail space," said Frank Poland, who owns the first-floor Coffee, Tea and Spice. "Someone needs to be there, minding the store or it's not going to work."
<b>MACDONALD INTENDS</b> for his gallery to be a successful retail venture, and he has installed new hardwood floors and a lighting system to properly display the art. Although he plans to show his own work about once a year, most of the art displayed at AHM Gallery will be the work of others. To empty his gallery space of personal clutter, he acquired another room upstairs to use as an office and installed a professional-grade printer — one that he used to print all of Muhin's images for the premiere show.
"Andrew took some time to focus on himself and do the things he needed to do," said Boyd Walker, who managed Macdaonld's 2003 campaign. "So I'm looking forward to the re-emergence of Andrew Macdonald into public life."