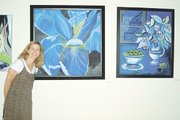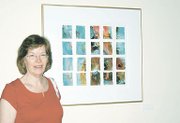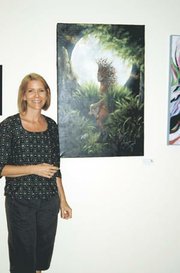 With its colorful art shows and equally colorful members, the Springfield Art Guild has been brightening up the Springfield community for nearly 40 years.
Judy Wengrovitz and Yolande Frost founded the SAG in 1969. Wengrovitz, a native of Brooklyn, N.Y., has lived in Springfield for 53 years. She is a painter, usually working with watercolors and acrylics, and has won numerous awards for her artwork, most recently at the 2008 Mid-Atlantic Watercolor Show at Strathmore Hall in Maryland. Wengrovitz has served as the president of the Virginia Watercolor Society and is listed in "Who's Who in American Art," a national publication.
The Springfield Art Guild was founded, Wengrovitz said, to "provide outlets for local artists to meet and work together, and to encourage recognition for new and established artists in all media." She cites interesting meetings, which took place at the Richard Byrd Library, as the factor that attracted many members during the guild's early years. Art shows took place in various locations.
"We had no trouble finding venues," said Wengrovitz. "We used to have an outdoor art show in Springfield, which provided awards to quite a number of artists in the area. Almost every week another shopping center had something going on."
At its inception, the SAG had only four members. Today, more than 100 local professional and amateur artists find inspiration and fellowship within the guild. Their work materials range from clay to oil paint to rice paper, and their pieces include collages, sculptures and photographs.
THE SPRINGFIELD Art Guild's members are as diverse as the media they use. Co-president Skeeter Sheid has lived in Springfield for 21 years, majored in art in college and has taught the subject privately and in schools. Co-president Donnalynne Lefever was born in the area and attended Edison High School. She received a degree in theater, moved to New York City and created costumes for Broadway productions. She now runs her own company, Lefever Designs, a faux-finishes and murals business. Vice President Karen Flann has lived in the area for 34 years and started taking art classes a decade ago after a long career in special education. Publicity officer Maureen Wolford, a Springfield resident for 21 years, worked as an interior designer before deciding that art was her calling.
These artists learned of the SAG through fliers, newspaper advertisements and word-of-mouth. Despite their different backgrounds, each was attracted to the guild. "I wanted to be around like-minded people to get the creative stuff flowing," said Lefever, summarizing the sentiments of her fellow members.
The Springfield Art Guild offers its members a variety of opportunities to develop and demonstrate their creative abilities. Meetings are on the second Wednesday of each month, September through June, at Grace Presbyterian Church in Springfield.
"Social time is from 7:30 to 8 p.m., with light refreshments," said Flann. "We bring art to display and interact with each other about art. Then there is a very brief business meeting and announcements." From 8:15-9:30 p.m., a guest artist gives a presentation. These guest artists have varied specialties; an upcoming meeting will feature a body artist.
Occasionally, meetings involve critiques, where outside artists offer objective feedback on members' work. Some members offer classes that others can take to learn new techniques. The SAG puts out a monthly newsletter and provides scholarships to high school students pursuing art.
The opportunity to interact with other artists is a major benefit of guild membership, according to Wolford. "We get to make friends with artists, and get inspired by other artists," said Wolford.
"I've never been in a group that's so cooperative, so easy to work with, so supportive," said Sheid. "We never have trouble getting people to volunteer, and there's no in-fighting. It's a rare thing.
That's why we've sustained for so long."
A BOARD of officers chosen by guild members runs SAG. Each board member serves a term of three years and may serve for two consecutive terms. Lefever and Scheid use their roles as co-presidents to meet the artistic needs of the other members. "We get feedback and take votes," said Lefever. "We took surveys and got a big response." For example, according to Lefever, a recent survey indicated that the majority of the guild wants to show and sell artwork.
Despite having no facility of its own, the guild provides artists with chances to display their work in various exhibits throughout the year. Venues, including local libraries, government buildings and shopping centers, set restrictions for the exhibits. Often, these venues do not have the space to exhibit sculptures. Another frequent limitation bans the portrayal of nude figures, which is known as figurative artwork.
According to Lefever, whose pieces are often figurative, these restrictions are one reason the SAG wants its own gallery. The guild had a facility in Springfield years ago, according to Wengrovitz, but it did not work out. "We are looking for a place to regularly show," said Sheid.
Some of the Springfield Art Guild's shows are juried, which means that a judge selects pieces to exhibit based on a particular theme or picks pieces that will look good displayed together. Many guild members participate in the annual Green Spring Gardens juried show.
A new show location for the SAG is Springfield Mall, which, at the time of publication, was displaying members' works on a wall on the first floor.
Kelly Gilfether, a marketing assistant at the mall, said that the public has responded positively to the artwork. "I have had people stop and say they love the art work, that it brightens up the mall, and they've come to customer service to say the same things." People also have expressed interest in buying the pieces. According to Gilfether, the regional marketing director of Springfield Mall is looking to work more with local artists as barricades are put up during mall renovations.
The opening of the Lorton Workhouse Art Center in September 2008 will provide another opportunity for guild members. The SAG has been invited to be the first group to show in the center's main gallery space.
"The members of the Springfield Art Guild were instrumental in supporting the Lorton Arts Foundation's efforts to open the workhouse," said Sharon Mason, executive arts director for the Lorton Arts Foundation. "They have helped for five years with things like feasibility studies leading up to the county's signing of the lease. We chose the Springfield Art Guild to be one of the first to exhibit because of the effort they made to get us to where we are."
Like the Springfield Art Guild, many art groups around Fairfax County have no galleries, according to Mason. The Lorton Workhouse Arts Center will feature art from these groups regularly.
These additional opportunities to exhibit members' work will allow the Springfield Art Guild to carry out what its board members consider its primary purpose: exposing people to art.
"Art is moving out of galleries, into the workplace, into the marketplace, going outside," said Sheid. "We have a vision for the community, to get people to realize that the arts are essential."
The leadership of the SAG has several goals for the future to better carry out the group's mission. "We want an art space to teach, to show on a regular basis," said Sheid. "We want to communicate with other groups, to create more options and more opportunities. We want to be an integral part of the community. We want to be a catalyst for art."