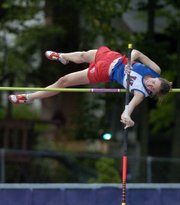 Frank Afriyie spent Tuesday afternoon heaving a circular discus and a nondescript weight, randomly contorting his body in circles before letting the objects go. Nothing in particular was going on, no coaches were around and other than three other heavy-set throwers, no one really paid him and three others much attention.
Three days before, the powerful T.C. Williams senior was busy winning the discus and placing second in the shot put in the Group AAA state track meet at Todd Stadium in Newport News, Va. over the weekend.
Afriyie, a defensive end who was injured for the better portion of the football season, won the discus on his second throw of 168 feet, 4 inches. The throw was slightly behing the 169-foot toss he had in the Northern Region meet, which broke position coach Rodney Johnson's school record of 167 feet.
"Once the indoor senior started his senior year, he was just on fire. Each week he has been setting new personal records," said Johnson, who still holds the state meet shot put record he set in 1997.
Afriyie backed up the first-place discus showing with a second in the shot put, throwing a personal-best 54 feet, 10 inches.
"The shot, I can go out there any day and just power it and have fun," Afriyie said on Tuesday. "But the discus, I have to be relaxed and comfortable so I can get everything right."
Other standout performances included senior Tommy Clark's sixth in pole vault (14 feet), which tied a personal-record.
Dartmouth-bound runner Brad Kenimer finished 13th in the 1,600 meters (4:28.57) and fellow senior Jamal Ford was 14th in the long jump (22-2.75).
T.C. Williams junior Tynita Butts, who set a Virginia indoor record in the long jump in clearing 20 feet, scratched and failed to place. She did managed to get fourth in the high jump (5-6) and ninth in 100-meter dash (12.53).
Senior Eva Baker finished seventh in the pole vault, clearing a season-best 10-foot-6, while Amanda Hopson set a new personal-record en route to finishing 10th in the discus (104-9).
After the first day of the two-day meet, T.C. Williams' boys were in fourth with 10 points. The Titans ended up with 21 points, good enough for eighth—the highest in the Northern Region. The T.C. Williams girls finished tied for 27th.
Western Branch was crowned the boys state champion, while Landstown's girls won by 36 points, the largest-ever margin of victory in state history.