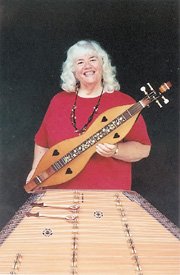 Madeline MacNeil has been performing music for many years. She sings and plays music from a variety of genres and considers "Over the Rainbow" one of her favorite songs. She will be performing at The Athenaeum on Thursday, June 12 at 7 p.m. with Todd Crowley. Visit www.nvfaa.org for ticket information.
<b>Introduce yourself:
</b>Madeline MacNeil. I live in the Shenandoah Valley, near Holy Cross Abbey (a Trappist monastery). My friendship with the brothers there goes back more than thirty years. For those thirty years I've played and sung at Midnight Mass on Christmas Eve. If I had to choose my favorite instrument, it would be my voice. Second after that are the hammered and mountain dulcimers, my performing instruments.
<b>How did you get your start in music and how long have you been performing?
</b>I've sung probably since the day I was born. My mother was 40 then, and the story goes that after I wore her out for the day she'd lie down beside me (when I was 5 or so) and ask me to sing to her. I did; when she fell asleep I'd get up and play...until I was caught!
In my mid-20's, while teaching at Warren County High School in Front Royal, I went to a concert by Peter, Paul and Mary. Then I knew what I wanted to do in my life. Not long afterward I ended my teaching career for the infinitely better-paying folk singing work. (Ahem.)
<b>How long have you been performing?
</b>Officially for close to forty years.
<b>What is it that you love about performing?
</b>The infinite stories audiences share through their smiles and their singing with me. That's putting it simply, but in essence I feel that every time I perform it's the first time! The music is fresh, the audience is new, the experience preparing to enrich my life...
<b>What is your best memory when it comes to music?
</b>There are many best memories, but let me share one that happened during a recording. I was singing "Shenandoah" at Bias Studio in Springfield, and we were on the third take. I happened to think about a friend of mine who was supposed to be by the River that day. Why didn't I sing the song to him? I closed my eyes... Perhaps halfway through I was there with him, standing by an old fallen tree. At the end of the song, when the engineer spoke and said something like, "Well, we got that one!, I suddenly realized I was in a studio...not by the River. Took me hours to get past that feeling.
Two days later I saw my friend and casually mentioned, "The day I recorded 'Shenandoah' I sang it to you." He replied, "Was that the afternoon when you and I were standing by an old fallen tree by the River?" ...By the way...that recording of "Shenandoah" has been used in PBS productions and is now part of the Web site ShenandoahValley.com.
<b>Where is your favorite place to play, either publicly or personally?
</b>That's a hard one; there are too many from which to choose. Of the perhaps fifty places "at the top" maybe the monastery is "at the top of the top!"
<b>Best compliment about a performance?
</b>I get shy about these things. Let's do a couple. I am ecstatic when someone tells me he or she has now realized how much fun it is to sing...and has decided not to keep silent anymore!
Another one that charmed my heart is when Gregory Peck said, after hearing me sing at a performance: "Hearing Madeline MacNeil sing 'Shenandoah' brought tears to my eyes." (Afterward he talked with me some [I was too awed to say much of anything!], telling me that he meant what he said.
<b>What is your favorite piece of music and why?
</b>You'd probably think by now that the answer is "Shenandoah." That's certainly on the list. But we also need "Over The Rainbow." The first time I heard that on the radio as a child I wanted to go off with Dorothy and Toto and everyone and just sing that song over and over. Dorothy and Toto didn't come and get me, but I've been singing "Over The Rainbow" since that day. That song is the end of most of my performances.
<b>Who would you love to play with? Why?
</b>I love to sing with anyone who wants to sing. That holds true for playing dulcimers also. But...I've always treasured Judy Collins' voice since my early days of folk singing. Early on, as I was working to find "myself" in music I'd be delighted if someone said I sounded like Judy Collins.
<b>Describe your sound:
</b>Hmmmm... I sing the music I love. This means folk to jazz. My voice has a rather wide range, and it's fun singing things in a variety of genres.
<b>Biggest musical influences:
</b>I've already mentioned PP&M and Judy Collins. I feel that they guided me, without ever knowing who I am.
<b>Where have you toured?
</b>Many places. I've played music in Canada, England, Ireland, Wales, Scotland and The Netherlands. At one time, early on, I said that I'd like to perform in all of the fifty states. I hardly think about that anymore, but if I did...
Ones left: Hawaii, Nevada, Idaho, Wyoming, Montana, N. Dakota, S. Dakota, Minnesota, Iowa, Oklahoma and Mississippi.
<b>Anything special about the upcoming show at the Athenaeum?
</b>Ron Goad put this together for me. I taught him in high school...and he was one of the special students who encouraged me as I began this journey. Downtown Alexandria is a special place; I look forward to being in the area again.
<b>Future plans:
</b>This summer means Nova Scotia. In January I'll be teaching some dulcimer and performing a bit on a Caribbean cruise. Lots of nice things coming up. I have a new CD that will be released in August; new books for Mel Bay Publications.
<b>What would you recommend to someone starting out in the business?
</b>Play and sing the music in your heart. Live simply so you can enjoy the most likely small income you will have...for a long time, if not forever.
<b>Any parting thoughts?
</b>I look forward to meeting lots of new people at the June 12 concert.