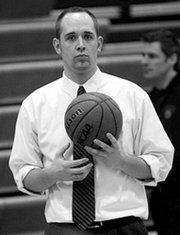 Robinson Director of Student Activities Mike McGurk announced this week that Brian Nelson has been hired as the Rams' new boys basketball head coach, taking over for Matt McKeag, who left to become the new head coach at Varina High School in Richmond.
"His energy and enthusiasm for basketball really came through in the interview process," said McGurk, who was impressed with the knowledge Nelson had of the Rams' basketball program. "He was on top of things. He went the extra step."
Nelson, the head junior varsity coach and assistant head coach at Langley High School for the past three seasons, started out as an assistant coach at his alma mater, Honeyoye-Flass-Lima High School in Rochester, N.Y., from 1998-2004. After the lifelong New Yorker moved down to Virginia in 2004, he was hired by then Langley head coach Brian Doyle to lead the Saxons' freshmen program.
"His commitment level is tremendous. He wanted to be involved in every aspect of the program and that is how you learn. That is how you become prepared to be a head coach," said Doyle, now an assistant principal and former head coach at Centreville High School. "He was involved in ways that the general public doesn't always see."
When current Langley head coach Travis Hess took over the boys basketball program, Nelson moved up to become the Langley boys basketball junior varsity head coach, as well an assistant coach for the varsity program.
"I think that he brings a passion to the game. He is a guy that wants to coach very badly and is willing to put in the time and energy," said Hess, whose Saxons finished last season with a 24-6 record. "That was one of the reasons that he was a great assistant and a big part of the reason why he got the job."
Nelson's junior varsity program went 31-17 during his time at the helm, including posting a 14-2 record last season.
"I have been in a really great situation over at Langley for the last four years. The success that our program experienced over the past season was just awesome. I wasn't looking to jump ship for the first opportunity that came knocking," said Nelson of his decision to head to Robinson. "Robinson was kind of unexpected. It is a place where I am going to enjoy both teaching and coaching. It is a program that I think can have success, in terms of competing for district championships."
The Rams are coming off of back-to-back Northern Region tournament berths and posted a 7-5 Concorde District mark last year. Over the past three seasons, the Rams have posted a 35-53 overall record.