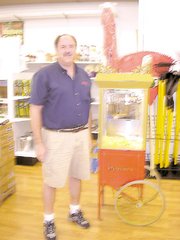 ACE is definitely the place for Alexandria residents who have long awaited the return of the community hardware store. Different from the mega chains, the newly opened Old Town Hardware at 809 S. Washington St. is a breath of fresh, customer oriented air that entices buyers rather than confounding them.
It is also a dream come true for its owner Richard J.Heilman. "One day I was having a particularly bad day in corporate life when I read about a couple that had five ACE hardware stores and the community really loved them. That's when I decided that's what I want to do," Heilman said standing next to his store's popcorn machine, an iconic symbol in ACE stores nationwide.
"I had been in the corporate banking world for many years and then went into consulting but I wasn't very happy. My wife said you know you really have to decide what you want to be when you grow up. That's when I said I have. I want to own and operate a hardware store," Heilman said.
At first his wife, Maribeth McCarthy, didn't believe it. She is also in the corporate world, employed by Dunn & Bradstreet, and going from corporate America to owning and operating a community hardware store is a substantial career leap.
"Now, she asks me when she can come to work in the store. Our oldest son Jack, who is nine, also wants to come in and work. He does help out some," Heilman said. So far, six year old Luke has kept his options open.
Entering off South Washington Street, the customer is immediately greeted by pleasant, interested and knowledgeable employees -- a somewhat unusual experience in the metro area if one is used to normally shopping the big box stores. This attitudinal surprise is highlighted by a bright, inviting environment that is well laid out with items easily accessible.
One's initial reaction is that of stepping through a time warp. The theme song of the Roosevelt Administration immediately comes to mind -- "Happy Days are Here Again."
Spread over two levels, the 9,000 square feet store contains just about every conceivable item that any customer could desire the hardware/general store type category from the smallest nuts and bolts to attractive outdoor furnishing by Smith and Hawkins. There are also plants, gardening tools, pet supplies, paints and painting accessories, automotive items, tools (both electric and hand), storage containers, and a host of other homeowner necessities.
And, one of the best things about this store is that it is in walking distance for most Old Town residents. For those further away there is ample, unmetered parking on Washington Street or in an free underground garage in the new apartment building immediately behind the store which has 150 retail/business spaces. Large item pick up is not a problem with drive up access at the rear of the store.
"There is very little storage in the store. Nearly all the space is designed as revenue producing sales space," Heilman said.
But, keeping the shelves well stock is not a challenge. That's where one of the advantages of being part of the worldwide, 5,000 store ACE cooperative corporation based in Oakbrook, Ill, comes in.
"They do all the buying through a computerized network. I place my order for items each Tuesday at 2 p.m. and they are delivered here by 7 a.m. Thursday," he explained. "As my business volume increases I can go to twice a week orders and delivery."
Heilman fully owns his store. It is not a chain or franchise. Being a cooperative corporation all store owners are stockholders in the mother corporation and share in the profits of that corporation in addition to what they make in their individual stores.
The stores in this area operate under the Richmond district office that administers the corporate financial arrangement as established when a dealer comes on board. ACE corporate also supplies other services to the dealers.
"ACE has a great program for new investors. They helped me with lease negotiations, sent in a project manager to help with layout, and worked with me to get financing. I have a Small Business loan plus my own capital," Heilman said.
"Dealers also benefit from ACE national advertising which is done on a theme basis. The most recent one was geared to the Memorial Day weekend and now there's a Father's Day theme. We do pay some fee toward that program," he said.
Most people are familiar with the former football coach and now sports announcer John Madden's pitch line -- "ACE is the place." But, as Heilman explained, the national advertising is done on a seasonal basis with an ever changing theme emphasis.
Heilman signed his lease October 7, 2007, and took possession 60 days later. The build out was completed in January and the soft opening took place on April 29, 2008.
"The volume has been steady and the customers very supportive. They really flocked in for our Memorial Day promotion sale. The question I get the most is "Where have you been for the last 20 years?" he said.
Heilman presently has seven full time and six part time employees. He is open from 8 a.m. to 8 p.m. Monday through Saturday and from noon to 5 p.m. on Sundays. "Some of my customers want me to open earlier and stay open later on Sundays. But, I do have to sleep sometime," he said.
"I may adjust the hours eventually, once I see how things flow. But, right now the schedule seems to be doing okay," Heilman said.
As he was explaining his plans a customer came in looking rather frustrated and headed straight for him. "I'm putting up drapes in a home here in Old Town with plaster walls and I can't get the supports to hold. What do I need?" she asked.
Heilman immediately led her to the appropriate section and helped her get the exact fixtures. "Thank you. That's real service," she said as she headed for the cashier.
Forty percent of the dollars spent in hardware stores are spent by women, according to Heilman.