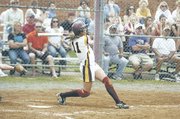 Perhaps the most remarkable aspect of Broad Run High's softball success this season has been the Spartans' ability to stay focused, to keep their eye on the prize.
That prize – of winning a second straight Virginia State AA title – was well within reach entering this week.
"The group personality of this team is they hate to lose," said Broad Run coach Ed Steele. "They really want to prove they can win states twice [in a row]."
The Spartans (25-0) have, as expected, been dominant over both the regular season as well as the postseason this spring. At the recent Dulles District tournament, they defeated both Briar Woods and Loudoun County in shutout fashion. The win over County, a 16-0 triumph, came in the finals and gave Broad Run the district crown for the third straight season.
Then at the Region II playoffs, Broad Run, after receiving a first round bye, defeated Fluvanna County High, 7-0, in the title game on May 28.
That set up the scenario for this week's state playoffs, in which Broad Run was scheduled to play a quarterfinals round home game against New Kent High on Tuesday of this week.
A win against New Kent will advance Broad Run (25-0) to this weekend's round of four at Radford University.
<b>A YEAR AGO</b>, Broad Run went 29-0 overall and defeated New Kent, 8-0, in the state championship game. Spartan ace pitcher Caitlyn Delahaba, then a junior, threw a no-hitter in that title game win.
Delahaba has been a dominant force each of the past two seasons for Broad Run. In last week's region finals win over Fluvanna County (Palmyra), a member of the Jefferson District, the talented right hander fanned the first 15 batters she faced. She finished the game with 18 strikeouts, the same number of K's she had in her team's district title game win over Loudoun County.
Going into states, Delahaba had a string of 139 scoreless innings and had 369 strikeouts on the season.
Steele said Fluvanna County came out swinging the bat against Delahaba and the Spartans. Only two of the first 15 Flying Flucos batters went down looking at a called third strike.
"They had never seen her and didn't know how fast she was," said Steele, of the Fluvanna batters.
Steele said his team has carried an all-business approach into the postseason, just as it did over the regular season. The Spartans were pleased, although not ecstatic, at winning both the district and region titles again. (The region crown, like the district championship, was the third in a row for the Spartans). Afterall, Broad Run is used to winning and winning big. The team is not overconfident but even-keeled. The district and region triumphs were simply stepping stones to the team's main goal of winning the state title again.
"We've been in the playoffs enough times where we don't view them as we did the first time we were in them," said Steele, who has led Broad Run to state titles in both 2000 and 2007. "We have been focused on [playing our best] and if we do that, it will go our way."
<b>OFFENSIVE</b> highlights in the district championship game win over Loudoun County included triples from both senior shortstop Ashley Kramer and junior third baseman Reagan Doiron. The Spartans jumped on the Raiders for five first inning runs. Kramer opened her team's first inning with a triple and then scored on an RBI fielder's choice by senior second baseman Michelle Clohan. That made the score 1-0 and the Spartans were off and running on way to the lopsided victory. For the game, Broad Run knocked around 20 base hits.
It marked the third time this season Broad Run has defeated Loudoun County by shutout.
In the win over Fluvanna County, Broad Run smacked 13 base hits. Kramer, Broad Run's leadoff hitter, went two-for-three with a triple in the game. She had gone a perfect five-for-five in the district finals win over County. For the season, Kramer is batting .576 and has a slugging percentage of over .800.
The entire Broad Run team has been hitting the ball with authority throughout the playoffs.
"We hit the ball hard against them," said Steele, of the game against Fluvanna. "The kids are just at a point where [an opposing pitcher] has to be sharp. You've got to be real good to keep us from scoring."
The Spartans have batted at a torrid .420 clip this season. And Broad Run has put early pressure on its opponents, scoring first inning runs in 20 of its games to put opponents in a hole.
Should Broad Run win its first round state tournament game over New Kent on Tuesday, it will play the Turner Ashby (Bridgewater) versus Salem (Virginia Beach) winner in a Friday semifinals game at Radford. The state championship game is scheduled for Saturday.
"This is a special group," said Steele, of his team and its chance at defending its state crown. "We don't really talk about [another state title]. Last year, there was more pressure. This year, we don't see the pressure."