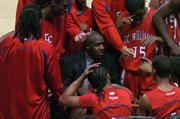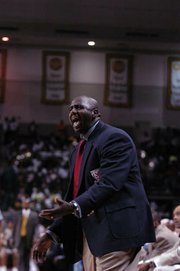 Ivan Thomas formally resigned his position as T.C. Williams head varsity boys basketball coach on Thursday, choosing to relocate to the Williamsburg, Va. area because of family commitments.
Thomas, who commuted nearly an hour to his home in Bowie, Md. for the past seven years—three as the Titans head coach—will follow his wife, Dr. Jennifer Miles-Thomas, who recently completed a seven-year urology residency program at Johns Hopkins Hospital. Thomas does not currently have another coaching job, but is confident he'll find an opening.
"Between my wife's profession and my profession, if I am going to be a good father and good parent, something has to give," Thomas, who has three children under 10-years-old, said on Tuesday. "So we are going to look for a simple life down in Williamsburg so we can spend more time with family."
For the past three seasons, Thomas made the T.C. Williams basketball team his second family, even sometimes joking that junior guard Edward Jenkins is like a surrogate son.
"He helped me improve in many ways off the court, as in my schoolwork and how I carry myself," Jenkins said on Tuesday. "I try to emulate him in everything he does, the way he carries himself."
Thomas maintained, even after telling Jenkins and the rest of the returning players that he will not return that the coach-player bonds are the most important aspect, far more vital than the wins.
"The relationships that I have with my players is the most important—I want people to say that this guy was someone who taught our kids more than just basketball," said
Thomas, who will remain as assistant director of student activities through the completion of the school year. "I am in the business of helping young people and I think that while I was at T.C., I had the opportunity to serve and help young people reach their maximum potential."
Jenkins, who often depends on Thomas for rides to summer AAU tournaments, is a prime example, though the coach cited similar bonds with Division I signees Glenn Andrews and Mike Davis, among others.
"It hurts a lot but I can't say anything to make him stay or make him try to consider getting his job back," Jenkins said. "In the end, he will be there with all of us because we have that type of bond and relationship."
<b>ON THE COURT</b>, Thomas' coaching resume speaks for itself. After winning the 2001 Illinois state championship under Bob Williams in Schaumburg, Ill., Thomas spent a year as an assistant under longtime Hayfield coach Charlie Thompson. Thomas then spent three years at Edison in his first stint as a head coach, going from six wins in 2002 to an 18-8 record two seasons later when the Eagles were the first National District team to win a regional contest in three seasons.
But what has been most impressive has been his tenure at T.C. Williams, where he racked up an impressive 78-11 record over three seasons, including a perfect 52-0 record in the Patriot District.
The 2007-2008 season culminated in the school's first state championship in 31 years, with Thomas receiving every regional and state Coach of the Year award possible, including his third Northern Region Coach of the Year honor.
"One of my proudest moments was winning the state championship because I saw a group of kids buy into a vision of playing and approaching a game the right way," said Thomas, who was in Chicago on Tuesday to give a motivational speech. "When I first took over T.C., there was a different impression. The biggest challenge was changing the mindset of the players."
Thomas preached defense, made flexible changes in the line-ups and used special—if not quirky—motivational tactics like tool boxes, hand gestures and funny phrases to keep his players' attentions focused on their respective goals.
"The first time I was around him and he addressed the group of boys I was sitting there as captivated as they were," said former assistant Kevin Quinlan, now the head coach at Edison. "The first thing I thought to myself was that if he was leading a church, I would start going more."
The wins piled up, resulting in three straight Patriot District titles and two straight region titles for just the second time in school history. But Thomas will likely be revered for leading the Titans to a 29-3 record this past season, including a 70-57 victory over heavily favored Bethel in the state championship.
<b>THOMAS MADE</b> the decision to be reprioritize his life in late September when 51-year-old Michael Hopson died of a heart attack. Hopson, who had two daughters at T.C. Williams and was a member of the famed 1971 football team used to visit Thomas in his office on a regular basis. When Thomas received the call from director of student activities Kerry Donley about Hopson's sudden passing, on a commute home and after his kids had been put to bed, he recognized something had to change.
"He'll be at [school] from early in the morning to late at night," Jenkins said. "He sees [his kids] the next day when he's dropping them off at the babysitter's. I understand the reason he's leaving and I accept that. He's just doing better things with his life."
Thomas has dual master's degrees—one in guidance counseling and another in educational leadership—and released his first book, "45 Tips to Discovering Your Child's Talent" in early April. He plans to release a second, "Listen to Me," a compilation of essays from teenagers later next year. Thomas also wants to start regularly giving motivational speeches.
"The administration has been very good to me and have been understanding of my family commitments, which I appreciate," Thomas said.
<b>FOR THE AREA</b> teams and coaches, it could be an opportunity to dethrone the reigning state champs, especially with the announcement that 6-foot-6 freshman Ben Dickinson will transfer to Gonzaga next season.
"I think a lot of coaches are jealous of what Ivan's done at T.C.," said Wakefield head coach Tony Bentley, who lost to T.C. Williams in the regional final in 2007. "There are a lot of people who don't like him, or don't like his style for whatever reason, but Ivan has always been like 'I don't care. It's about my program and it's about my kids.' If you talk to his kids, they'll run through walls for Ivan."
Thomas maintains he didn't pay attention to the negativity, which sometimes involved the community questioning decisions, like keeping Jenkins and Dominique Copeland on the varsity as freshmen, or complaining that he didn't win by a wider margin.
"I heard the mumblings, but it didn't bother me because I knew who I was and whether it was going to work or not, I was going to do it my way," he said. "But I've always known this was going to come to an end."
<b>WHERE DOES T.C. WILLIAMS</b> go from here? According to Thomas and Donley, the focus will likely turn to Thomas' staff, either varsity assistants Cornell Jones, Julian King or junior varsity coach Irvin Hay.
"T.C. basketball is in good hands," Thomas said. "Once you have a foundation, it's pretty tough to destroy it. My assistant coaches have the same work ethic that I have and they are willing to give to kids."
Jenkins was also adamant about hiring someone already affiliated with the program, in order to continue the tradition that Thomas ignited.
"We wouldn't have to learn a new system and we'd know expectations from what the new coach would want," said Jenkins, who scored 22 points in the state championship. "Yes, one piece is missing from the puzzle, but we've got to put in a new piece and keep moving."
Even Donley, who said he would speak with Thomas and departing principal Dr. Mel Riddile, mentioned the assistants as viable candidates.
"Fortunately, I think we will attract a lot of wonderful applicants for his position," Donley said. "I think we have some real solid assistant coaches that will apply for the job because I think we can look to hire from within... The sooner we move, the better it will be for the program."