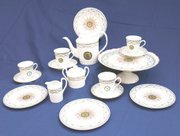 With gasoline prices approaching, and in many cases surpassing, the $4 per gallon threshold, many tourist attractions are fervently searching for new ways to entice visitors. Mount Vernon Estate has come up with two -- one is a joint venture with the Corcoran Art Gallery, the other provides a lucky tourist with some take home history.
Beginning this past Sunday, June 1, visitors to Mount Vernon will have a daily chance to win a piece of porcelain featuring the Martha Washington "States" pattern. The promotion will continue through August 31, according to Melissa Wood, media relations associate, Mt. Vernon Estate.
A retail value of $45, this popular reproduction comes boxed with a recipe from the Washington's and a certificate of authenticity. "No porcelain is more highly prized in American collections than are the surviving pieces of this service," said author Samuel Woodhouse, Jr., in 1935.
Nearly all of the original service items are damaged, many even badly broken, according to Woodhouse at the time. "Yet they hold their first-rank position," he said. Several of those original pieces have returned to Mount Vernon and are on display in the museum.
Considered one of the more distinct sets of china owned by the nation's first First Family, the "States" pattern features Martha Washington's initials set upon a starburst, encircled by a chain with the names of the 15 states that existed in 1796. The chain symbolizes strength and union.
The original set was a gift to Martha Washington from an agent of the Dutch India Company. Upon her death it was passed to her grandson, and then to his daughter, who became the wife of General Robert E. Lee.
A reproduction of the service was created in celebration of the exhibition "Setting the President's Table: American Presidential China." On display in Mount Vernon's Reynolds Museum and Education Center, the Robert L. McNeil, Jr., collection showcases over 100 pieces of porcelain from the McNeil American Collection at the Philadelphia Museum of Art featuring White House china from the presidential administrations of George Washington to Ronald Reagan.
Reproduced by Woodmere China located in western Pennsylvania, each piece of the "States" china is hand painted.
"States" china is our most recognizable pattern. It's the most distinct and the most inspiring," said David Turner, president, Woodmere China.
On August 31 Mount Vernon will pick a grand prize winner who will receive a full entertainment set that includes a teapot, pedestal cake plate, creamer, sugar bowl, four cups and saucers, and four desert plates valued at $750. Drawing will occur daily at 3 p.m. in the Shops at Mount Vernon. No purchase is required and winner do not have to present at the drawings.
In the case of the Corcoran Art Gallery/Mount Vernon Estate partnership both venues have agreed to promote the other by recognizing the admission tickets of each other to offer a half price admission to the second site. Regular members of each site enjoy complimentary entrance to the other year-round.
The summer promotion, which began May 1 and runs until July 27, connects George Washington's home with the Corcoran's exhibition entitled "The American Evolution: A History Through Art." It features portraits of Washington and a painting of Mount Vernon Estate.