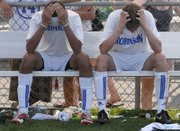 Robinson did not have enough energy, or luck, in trying to win its first AAA Virginia state boys soccer title, losing 1-0 to Deep Run at Westfield High School on June 7. The Wildcats scored the games only goal in the 12th minute as senior Bryan Wharton scored near the goal line after a pin-point pass from fellow senior Brian Ownby.
The Rams offense did not get in gear until the second half as they had a handful of scoring chances, but were unable to get the equalizer. Robinson captain, senior Seth Goldman, played only 28 minutes after missing time since injuring his left knee in the first round of the regional tournament.
"You can't say enough about our team. We worked hard and fought to the last minute. I am proud to be a Robinson Ram," said Goldman, who played with a slight limp.
The Wildcats recorded their 17th shutout this season as the Rams were held to one goal or less for the ninth time this year. Robinson had three shots on goal while Deep Run had four. Ram goalkeeper Adrian Dominguez made the save of the game in the second half as he stonewalled Ownby who got past two defenders and had a one on one opportunity against Dominguez.
The game was played in extreme heat – near 100 degrees temperatures. Players and coaches said that had an affect on the outcome. Robinson's 1-0 semifinal win over Thomas Dale the day before was close throughout and played during the afternoon as a heat warning was in affect in Fairfax County.
Meanwhile Deep Run had an easy 6-0 win over Kecoughtan, as several starters rested in the second half. The game was played during the evening hours.
"They got the one goal and we were down and we put out heads down," Robinson sophomore Alex Makcumbi, who scored the game winning goals in the teams first two state tournament games, including a 1-0 victory over Cox in the opening round.
Makcumbi and Goldman both added that making it to the state finals was a major building block from where they came from earlier in the season.
"For the program, it's just ridiculous. I am glad to leave my senior year going to states," Goldman said.
Added Makumbi: "At the beginning of the season we played bad and everyone thought we were the underdogs. Then we beat Westfield and we did some big things. We didn't win districts, we didn't win regionals, but we came this far, overall it was a good season."
Robinson head coach Jac Cicala failed in his bid to win his fifth state title, having won four with Lake Braddock having won back-to-back in 1982-83 and 1987-88.