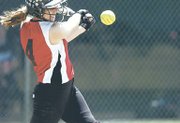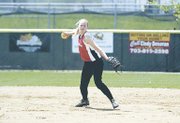 Herndon High's breakthrough girls' softball season ended with a 2-0 state AAA quarterfinals round playoff loss to host Hickory High of Chesapeake on June 3.
Hickory, a member of the Eastern Region, no-hit the Hornets, who were competing in the state playoffs for the first time in school history.
"Their pitcher was phenomenal," said Herndon head coach Bonnie O'Hearn, who recently announced this spring was her last at the helm of the program.
O'Hearn, who has coached Herndon for 13 years, is stepping down as a result of upcoming knee replacement surgery she will undergo.
Hickory's lone runs in the state playoff game were unearned. O'Hearn used both of her pitchers – starter Katie Briggs and reliever Katie Rynex – in the game.
While Herndon's pitching was good enough to win, the Hornet bats had a tough game. Herndon hitters struggled to make contact at the plate.
"It was really hard," said O'Hearn, of the game. "We couldn't get the ball in play. We had a couple people make contact."
<b>HERNDON</b> (17-10) had an amazing season. Following an outstanding regular season, the Hornets reached the Concorde District finals before finally losing. Then, at the Northern Region playoffs, Herndon won its first three games to reach the 16-team tournament finals where it lost to Westfield High.
But by making it to the region finals, the Hornets automatically qualified for the eight-team state tournament. Herndon lost to Hickory, but that hardly takes away from what has been an incredible spring.
"What I'm most proud of is that the girls never gave up," said O'Hearn, whose team dealt with injury struggles and a mid-season team slump over the course of the spring.
O'Hearn said her squad was heart-broken following the season-ending loss to the Hawks at states. But the Hornets were not discouraged by their showing.
"After the game, of course, everyone was disappointed," said O'Hearn. "But we knew we had played a decent game and did everything we could. We faced the best pitcher [around]."
Herndon, in making its first state tournament in softball, traveled four-and-a-half hours by chartered bus to Chesapeake for the big state playoff game. Following the playoff loss, the Hornets remained in the Chesapeake area for the night at a nice hotel.
"The whole experience was neat for us," said O'Hearn, of traveling for a state playoff game. "It was kind of like a fantasy land type thing. We had a good time."