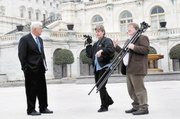 Most of the action in "Finding Our Voices" takes place before the March 2003 invasion of Iraq, a time when speaking out against the rush to war was likely to invite accusations of being un-American. The 70-minute documentary by Dream Catcher Films features the personal stories of resistance and opposition by people who questioned the wisdom of invading a country that had not attacked America. Now, with popular support turned against a military occupation that has dragged on longer than World War II, those who opposed the war before it began have a newfound cache. This film chronicles how they found their voice.
"This is a film about courage of individual people to take risk to stand up for their beliefs," said Victoria Hughes, a longtime Alexandria resident who directed the film. "We wanted to show that dissent was patriotic."
A native of Washington, D.C., Hughes has been an independent filmmaker for 12 years. The child of a United States diplomat, she spent her childhood in far-flung locales experiencing the international scene. By the time she graduated from the University of Virginia, Hughes had a wanderlust that landed her a teaching gig in a Scottish high school in Israel. After returning to America in the 1980s, she began writing and directing documentaries for the Educational Films division of National Geographic. In the past 12 years, she has worked on more than 60 hours of programming for the Discovery Channel, BBC, PBS and National Geographic.
"There are great policy wonks out there right now, but we wanted to do something that was different," said Hughes. "We wanted to do something different. We wanted to do a story about people."
<b>THE FILM FEATURES</b> a mother who lost her son in the World Trade Center, three soldiers who participated in the 2003 invasion, peace activists and U.S. Rep. Jim Moran (D-8). Their personal stories are interspersed with footage of street protests in New York, insurgent explosions in Baghdad and political arguments in Washington. The cumulative effect is one of exasperation, with the voices of dissent moving from a shunted minority to a disgruntled majority. The ending of the film will leave viewers with a feeling that the narrative is largely unresolved even as a coda awaits on Election Day in November.
"The war was wrong. The war was immoral," said John Bruhns, an infantryman who took part in the invasion and occupation of Iraq in 2003. "I'm proud of my military service, but I'm not proud of the Iraq war."
Congressman Moran acts as a sort of Greek chorus for the argument of the film, which is that the invasion of Iraq was an illegal action that has now caused irreparable harm to the diplomatic reputation of the Untied States. He is seen opposing the war on the floor of the House of Representatives and in the community room at St. Elmo's Coffee Pub in Del Ray. Much of the footage featuring him was recorded during an extended interview in his Capitol Hill office.
"When I took a strong position against the war I wasn't necessarily doing it to represent my constituents but rather to represent my own beliefs," Moran says in the film. "There are some issues that are important enough that you've got to take a stand."