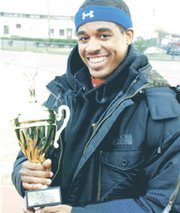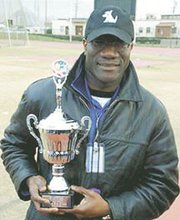 Finishing in second place did not sit well with South Lakes High boys' track and field coach Alfred Buckley last winter.
The Seahawks, competing in the indoor season, had finished runner-up to champion Jefferson at the Liberty District Championships. Buckley, a former track athlete at Cornell University, had been hired to take over the South Lakes boys' and girls' teams the previous October. The winter season was Buckley's first at the helm of the program, and he had high hopes of claiming the district boys' title.
So when it did not happen, Buckley geared his team to do better in the spring outdoor season.
"That was a motivation for me," said Buckley, of the unfulfilling second place team finish in the winter. "I talked to the team [about the spring season] and said, `Look, this is what I want and this is how we'll put it together.'"
The way it ultimately came together, in fact, was sensational as the South Lakes boys enjoyed a spectacular outdoor season in which they captured both the district and Northern Region team titles before finishing a respectable ninth place at the Virginia State AAA Championships a few weeks ago.
"In the outdoor season, [the team] really grabbed the bull by the horn," said Buckley. "As the season went on they got more confident. They took [things] to another level."
<b>BUCKLEY</b> had used the winter season to grow familiar with his new team and his coaching staff. So by the time the spring outdoor season was set to begin, he had a better feel for the personnel that made up the program.
For outdoor season, he focused his primary attention on the program's sprinters, an area of track and field in which Buckley himself had excelled at during his competitive days as a high school runner at St. John's College High School in Washington, D.C. and as a collegiate student athlete at Cornell in the Ivy League.
His assistant coaches – Joseph Schuler (distance), Marvin Wooten (field events) and Dwayne Scott (former South Lakes head coach) – focused on other areas of the team.
Together, Buckley and his assistants built the Seahawks into an outdoor champion, both at the district and region levels.
Buckley encourages his athletes to be confident, but not overconfident, and to let their athletic talent do the talking for them.
"I don't want [our athletes] to be cocky or over confident, but I do want them to go out [and compete] with a swagger," said Buckley, who prior to coming to South Lakes was head coach at his old high school – St. John's College – for five years from 2003 through 2007. "We want people to know we're here. I just wanted us to do our job [at meets]."
Several boys were particularly key to the Seahawks' vast success this past spring season, including newcomer to the program, A.J. Price.
The talented Price had excelled throughout his high school career in both football and basketball. He recently earned a scholarship to play collegiate football at Penn State University. Over the past two years, Price, currently completing his senior year, has been one of the region's top football wide receivers.
In outdoor track, he was an outstanding addition to the Seahawks' team.
"A.J. was the backbone of the team," said Buckley. "He was the one that pulled the guys together. He gave us a spark that got everybody excited. He has been kind of the glue."
Following a dominating performance at regionals in which he finished first in three events – the 200 dash, the 400 dash and the long jump, and third in the high jump – Price was geared to have another top competition at the state meet. But at states he injured a hamstring during the 4x100- relay event. With the nagging injury, Price tried to compete in the 400 finals and was leading the race for a while before ultimately falling back and finishing eighth as a result of his hamstring.
"The injury just nullified everything for him," said Buckley, who believes the Seahawks would have finished better than ninth in the team standings had Price been healthy throughout the meet.
Price broke school records this season in the long jump, the 200 and 400 events. He was also part of three relay teams – the 4x100, 4x200 and 4x400 – that broke school marks.
Another key member for the boys' team during the spring was Vincent Brown, who, at regionals, won the 110-hurdles event, finished second in the long jump (behind Price) and was third place in the 100.
"He's come on like gang busters," said Buckley, who credited Brown's parents and other personnel with encouraging Brown to become the student-athlete he is. "His parents have helped a lot and he has kept working at his craft, the hurdles, and kept getting better."
Brown, a school record holder in the 110 hurdles, was used as an alternate on all three of the South Lakes relays.
Buckley said Brown simply practiced hard and competed at a high level.
"With Vincent, all you need to tell him is to go out and run, and then leave him alone," said Buckley, with a laugh. "He internalizes things and knows what he needs to do. His work ethic is superb."
Two other team members who contributed to the team's stellar performances this spring were siblings Nicholas and Adrian Vaughn.
"They were my heart," said Buckley. "They'd had some up and down careers before I got here."
Nicholas, a senior and a team captain, placed in both the 400 (second) and 200 (fifth) races at regionals. Buckley said Nick was an outstanding team leader.
"He did an exceptional job pulling them together," said Buckley. "He helped me motivate the athletes. He gave a lot of inspiration. He has been a captain in both the indoor and outdoor [seasons]. I like his work ethic."
Adrian Vaughn, meanwhile, has vast potential. The 10th grader placed in two events at regionals – the 200 (fourth) and 400 (fifth) races.
"Adrian is the unhidden talent of the team," said Buckley. "He is stronger and better built. He's built for track, he's slender and he's getting stronger. In years to come he'll be recognized for what he's done and for what he's going to do."
Another important boys' team member was Mike Harrell, a junior who also competed for the South Lakes soccer team during the spring. Unfortunately, Harrell's athletic seasons in both sports were cut short because of a soccer injury.
South Lakes' season is still not over. The Seahawks will be competing at nationals this weekend in Greensboro, N.C. The team will compete in all three relays (4x100, 4x200, 4x400) and Brown will take part in the 110-hurdles.
<b>South Lakes</b> has had a terrific postseason in boys track and field, with the Seahawks winning team titles at both the Liberty District and Northern Region meets.
The South Lakes High boys captured first place at the recent Northern Region track and field championships, which took place May 22 and 23 at Lake Braddock High School.
The Seahawks, coached by Alfred Buckley, won the event with 93.50 team points, besting runner-up Edison (86 points) and third place T.C. Williams (77.50). Lake Braddock finished fourth overall with 51.50 points, ahead of fifth place West Potomac (45) and sixth place Stone Bridge (35).
South Lakes senior A.J. Price had an outstanding meet, winning three events – the 200 dash, the 400 dash and the long jump. He was also third in the high jump.
Seahawk junior Vincent Brown won the 110-hurdles event. He also had a second place finish in the long jump, a third place finish in the 100 dash and an eighth place in the 200.
Senior Nick Vaughn placed in both the 400 (second) and 200 (fifth) races, while sophomore Adrian Vaughn also placed in two events – the 200 (fourth) and 400 (fifth).
South Lakes junior Quintin Fortes was fifth in the discus event.
South Lakes' 4x400 relay team of senior Kevin Hickey, Nick Vaughn, Fortes and Price was a second place finisher behind first place West Potomac.