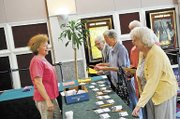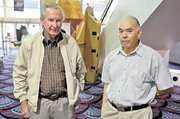 On the last Wednesday of each month at 9:30 a.m., Reston resident Kurt McJilton greets an average of 200 senior citizens arriving at the Multiplex Cinema at Reston Town Center.
"I like helping out," said McJilton. "I like greeting all the people because they're all so special."
McJilton clicks a metal counter attached to his pocket as each person passes him. Last Wednesday, 113 people attended the movie, "Music & Lyrics."
The free movie morning is an event put on by the Reston Association for the past 14 years. RA events specialist Ashleigh Soloff has led the movie morning for the past 13 years.
"A lot of friends have been made here," Soloff said. "There are many interesting people who attend."
Movies begin at 10 a.m. and coffee and donuts precede one half-hour before the showing. Door prizes are also another incentive for attending. RA volunteer Carole Stadfield greets and signs people up for the prizes, which includes restaurant gift cards and tickets for other RA events.
"It's a lot of fun with the people that come all the time," said Stadfield. "I encourage them to get their orange juice and donuts for the vitamins and energy."
Seniors drive and ride in from the greater Reston area. Reston resident Franatte Bell makes the trip to the movie occasionally.
"I've met many wonderful ladies here," Bell said.
Bell lived in Europe for 26 years before settling in Reston. She said the community is the best part of the town.
Vienna residents Lewis Vinds and Ralph Bell live two houses from each other and enjoy the movies shown, but still hold the old movies close to their hearts.
"The movies when I was growing up were much better," Vinds said. "We didn't worry about all the technology there is today."
"I especially enjoyed the old westerns with Roy Rogers," said Bell. "As a teenager, I remember trying to pick up those programs on the radio."
The next free movie morning is June 25 and will show "A Good Year." For information, call 703-435-6577.