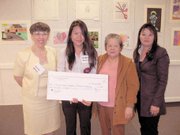 The fourth-annual College Access Fairfax Scholars' awards reception was held last Wednesday, May 21 at Annandale High School. Michelle Choeung won a $1,000 scholarship to help defray costs at George Mason University.
A full IB diploma candidate, Michelle Choeung combines a grueling academic program with participation in sports and volunteer activities at INOVA Fairfax Hospital. She also manages to participate in various school clubs and activities, including the It's Academic team and the Interact Club which is a service club which helps the most needy in the community. Michelle defines herself as her mother's daughter. Her parents are refugees from the Pol Pot regime in Cambodia. Michelle's mother was unable to pursue an education in either Cambodia or the United States, but the value she placed one education has transferred itself to Michelle. That value, combined with nursing her grandmother through a serious medical condition has pointed Michelle toward a career interest in biology and nutritional science. She will pursue that goal at George Mason University.
Founded in 2004 by former Virginia Education Secretary James Dyke, School Board member Tessie Wilson and former School Board member Chris Braunlich, College Access Fairfax provides one-on-one financial aid advice and counseling to high school juniors and seniors in targeted high schools with high percentages of low-income and Limited English Proficient students.