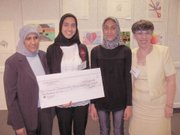 The fourth-annual College Access Fairfax Scholars' awards reception was held last Wednesday, May 21 at Annandale High School.
Marjan Darab won a $1,000 scholarship to Virginia Commonwealth University. She describes herself as a person with strong ties to two different cultures — growing up in American society, but raised by the Afghan culture. Her Afghan culture has given her a strong sense of who she is, and what is important in her life. Experiences and opportunities have helped shape Marjan's personal goals. Taking advantage of the medical and health specialty classes available at Falls Church High School, she has focused on a career in medicine. Her class work helped her deal with a personal crisis when her mother suffered an allergic reaction to a medication. She has volunteered at the American Red Cross, INOVA Hospital and works in a medical office. And all while maintaining a 3.7 GPA and playing varsity volleyball. Freshman year will find Marjan at Virginia Commonwealth University, majoring pre-med.
Founded in 2004 by former Virginia Education Secretary James Dyke, School Board member Tessie Wilson and former School Board member Chris Braunlich, College Access Fairfax provides one-on-one financial aid advice and counseling to high school juniors and seniors in targeted high schools with high percentages of low-income and Limited English Proficient students.