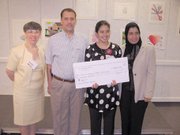 The fourth-annual College Access Fairfax Scholars' awards reception was held last Wednesday, May 21 at Annandale High School.
Two Alexandria seniors won $1,000 scholarships to help defray college costs. Bryant Alternative High School senior Mohammed Islam will be attending NOVA and Annandale High senior Wafa Khadraoui will be attending Johns Hopkins.
Founded in 2004 by former Virginia Education Secretary James Dyke, School Board member Tessie Wilson and former School Board member Chris Braunlich, College Access Fairfax provides one-on-one financial aid advice and counseling to high school juniors and seniors in targeted high schools with high percentages of low-income and Limited English Proficient students.
<b>MOHAMMED ISLAM</b>
Jan McKee, principal of Bryant Alternative High School, has one word to describe Mohammed Islam — tenacity. Starting as an A-2 ESOL student (knowing little English), it took Mohammed five years to complete his high school degree. And while he was learning English, getting his high school diploma — he was also working to help pay his expenses and those of his family, recent immigrants from Bangladesh. And somehow Mohammed also finds time to be active at Bryant — he was president of the National Honor Society, vice president of the Future Business Leaders of America and a member of the Students' Leadership Committee. Mohammed will attend Northern Virginia Community college this fall, majoring in computer science.
<b>WAFA KHADRAOUI</b>
Wafa Khadraoui is this year's winner of the Sharifa Alkateeb Memorial Scholarship. This scholarship in given in memory of a remarkable individual whose commitment to education and understanding diversity are legendary. A line from Wafa's essay says it all …. "In order to break the chains imposed by society, education is necessary, not only as a means to prove your educational worth … but as a way to be qualified to aid in changing the currents of opinions and embracing a new society." That was Sharifa and it is Wafa. She speaks French and Arabic as well as English and has maintained a 3.87 GPA. Her community involvement includes the Just World/Interact Club to promote understanding of global issues, working with children with AIDS and volunteers at INOVA Hospital. Waja will be majoring in pre-med this fall at Johns Hopkins University.