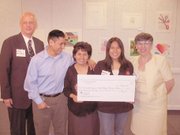 The fourth-annual College Access Fairfax Scholars' awards reception was held last Wednesday, May 21 at Annandale High School. Maritza Castro of Annandale won a $1,000 to help defray costs to NOVA.
The Dorothy Braunlich Memorial Scholarship goes to an individual with a passion for helping animals in distress and who wants to pursue a career in Animal Science or Veterinary Medicine. And that is Maritza. And not only is she passionate about animals, but she has also volunteered at INOVA Hospital for the last four years. A delegate to Girls' State, involved with Annandale's Hispanic Leadership Club, a member of the Chino Terrones Peruvian Dance Academy and a three year member of the National Honor Society, Maritza also excels academically with a 3.6 GPA. Her course load includes several IB courses – among the most difficult in our curriculum. And somehow she even found time to be on the varsity volleyball team - and the Annandale orchestra. Her teachers say – 'I wish I had a class full of people like her." We wish her continued success as she starts her schooling at Northern Virginia Community College.
Founded in 2004 by former Virginia Education Secretary James Dyke, School Board member Tessie Wilson and former School Board member Chris Braunlich, College Access Fairfax provides one-on-one financial aid advice and counseling to high school juniors and seniors in targeted high schools with high percentages of low-income and Limited English Proficient students.