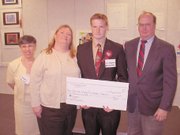 The fourth-annual College Access Fairfax Scholars' awards reception was held last Wednesday, May 21 at Annandale High School.
Christopher Weschler is the winner of this year's Eagle Scout scholarship. He embodies all the traits of an Eagle Scout, and continues to be involved in the Scouting movement. Community service has always been a part of his life – including helping to raise money for charity, serving as a team captain for Relay for life, restoring his church, and serving on the National Emergency Preparedness team.
A well-rounded young man, Chris has been a member of Madison's wrestling team, the marching band and a member of the International Thespian Honor Society. But perhaps his greatest accomplishment has been the support he has shown his mother as she battles cancer. It has motivated Chris to pursue a career in biomedical research at Roanoke College in Salem, Va., this fall.
FOUNDED IN 2004 by former Virginia Education Secretary James Dyke, School Board member Tessie Wilson and former School Board member Chris Braunlich, College Access Fairfax provides one-on-one financial aid advice and counseling to high school juniors and seniors in targeted high schools with high percentages of low-income and Limited English Proficient students.