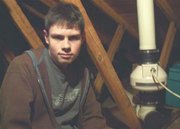 Andre Gerner, 17, of Vienna was one of the Grand Prize winners at the Fairfax County Regional Science Fair March 28-30 at Robinson Secondary School.
For his project, "Radiation Mitigation: Fact or Fiction?," the Marshall High School junior started planning last November and finished up in February. He was testing to see whether the radon pump installed in his house had any effects on its radiation levels.
"I can't really say I expected [to win] considering the quality of some of the other projects," he said. "The other projects were very thoroughly researched."
He got advice from his science teacher, Amy Perlman, with help from his father, Andre, an experimental test pilot with the U.S. Air Force. His mother is Terri Gerner.
Andre is now eligible to participate at the Intel International Science and Engineering Fair in Atlanta, from May 11–17 at the Georgia World Congress Center. He will be competing with students from all over the world for $4 million in awards and scholarships.
With a 3.5 GPA, Andre is involved in the school's debate team, the Boy Scouts (working toward his Eagle rank), soaring (airplanes without propellers) and karting — as in go-karts.
In the future, he is considering Emerson College or the University of Southern California where he hopes to study filmmaking. His favorite film? "Shawshank Redemption."