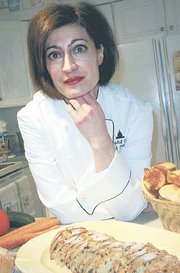 Personal Chef Patricia Sanitate is Italian but was born and raised in Toronto, Canada. Under the influence of her Italian-born parents, she learned to embrace and maintain a strong Italian/Canadian culture, which is also apparent in her culinary creations.
Sanitate, who works for A Capital Cuisine, is not the average chef. Instead of working out of a restaurant, she cooks at the homes of her many clients around Northern Virginia. A Washington, D.C.-area resident for 15 years, she currently resides in Burke.
How did you become a personal chef?
I love to cook and have been cooking since I was 15. My mother passed away when I was 16, which is why I began cooking at an early age. My mother was a fantastic cook and taught me much. I have traveled throughout Europe with frequent trips to Italy where I perfected my cooking style. In my opinion, Italy is the best "classroom" for culinary arts. I became a chef mostly because I love to cook and share cooking talents with others.
What and/or who are your culinary inspirations?
My culinary inspirations revolve around my cooking experiences in Italy where I honed my skills on my many visits there with friends and family. Italy is a veritable treasure trove of aromas and tastes, and the various regions of the country provide tremendous culinary experiences. I admire Italian chefs such as Mario Batali and Giada De Laurentiis among others.
What is the most popular/most requested dish by your clients?
My clients really love my Veal Marsala with mushrooms and wine sauce. It's light and extremely flavorful. Another dish my clients really enjoy is baked chicken breasts with tomato, garlic and wine sauce.
What is the most enjoyable aspect of your job?
The most enjoyable aspect is that by cooking delicious and nutritious meals for my clients, they are able to reclaim lost time. In this busy area we live in, it is difficult to find time to grocery shop, prepare and cook a fine meal. It gives me great pleasure to hear how well my dishes are received. Creating unique and different recipes based on what my clients' desire is truly a joy and the ultimate job satisfaction.
What are some challenges you face while on the job?
Sometimes my cook dates can get hectic if I am in a busy household with lots of kids and pets, but it is generally not a problem.
Do you have a focus/theme that you advertise as a personal chef?
My client's needs and desires are my focus and theme. If they have a specific goal such as weight loss or more nutritious eating, then I can certainly help them achieve their goals. On the other hand, if a truly gastronomic feast is their goal, such as for a dinner party, I can accommodate that as well. I believe my culinary talents can accommodate practically any of my client's desires or wishes. I find more and more of my clients wanting to restrict or lower the amount of bad carbs as a means of losing weight and eating healthier; so, I am developing more and more recipes with this in mind.
What is your favorite local restaurant and why?
My favorite local restaurant is Villa Bella in Burke. It is one of the few restaurants with a wood burning pizza oven and the aromas are out of this world.
What is your favorite Food Network show?
My family watches Food Network frequently. Our favorite show is "Iron Chef."
How do you like to de-stress after a long day of working?
Believe it or not, I love to delve into my cookbooks or my various cooking magazines to seek out new and exciting recipes.
Do you have a favorite cookbook?
Many years ago I read "The Joy of Cooking" and it is still one of my favorites.
Please describe your culinary personality.
I see myself as an inventor. I love creating new and exciting dishes and recipes. Marrying various foods with different ingredients is a wonderful challenge.