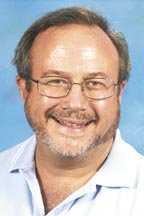 Mark Robbins, 49, a sixth-grade language arts teacher at The Langley School, was selected to participate in Teachers to Teachers, a language, history, technology, math, and science exchange program with Russia. He will spend three weeks there in March of 2009, thanks to the U.S. Department of State.
The fourth-year Langley teacher and Anndandale resident says he's looking forward to studying the Russian culture and its writers. "The Russians take hospitality to a whole new level," he says.
The program provides opportunities for U.S. and Russian teachers to learn from one another's education systems, exchange classroom ideas and expertise, and share educational best practices through seminars and workshops. By using American teachers as educational ambassadors, Teachers to Teachers encourages innovative teaching
methods, civics education, American Studies programs, and cultural understanding for students and teachers throughout Russia.
In return, American teachers learn about both alternative educational systems and foreign teaching methods, gain a unique perspective on Russian schools and communities, and participate in powerful cultural exchange.
"I've been fascinated by Russia since I was a child living through the darkest days of the Cold War. As a foreign affairs/English double major in college, I both studied the Soviet Union and read Russian literature," says Robbins, who was chosen for this honor out of a pool of more than 70 teachers. "I was intrigued by how much of the classic concept of the novel we owe to Russian literature – and just recently I have discovered the beauty of 19th century Russian poetry. I can't imagine a more fascinating place to visit."
As part of the program, the Russian participants traveled to the U.S. this spring for a four-week series of seminars at Purdue University in Indiana. Robbins will join his Russian counterparts at a three-day cross-cultural conference at Purdue April 25-27. During the conference, teachers from both countries will give presentations about their schools and teaching methods, participate in educational and cultural roundtable discussions, and discuss ways to maintain classroom partnerships in the future.
A fan of Russian writers like Aleksandr Pushkin, Anton Chekhov and Tolstoy, Robbins says: "I discovered that Russia has one of the highest literacy rates in the world. I'm interested in seeing what I can bring back from the experience," he said.
Next May, he plans to teach a new unit introducing Langley Middle School students to Russian poetry and short stories from the days of Imperial Russia.