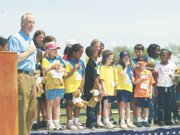 Angelus Academy students from Springfield were honored to be a part of the National Ranger Day on Saturday, April 26.
On a recent Saturday morning, more than 60 students, siblings, parents, and Angelus staff boarded a bus to begin a great National Junior Ranger Day on the National Mall.
Secretary of the Interior, Dirk Kempthorne, presented the children with their Junior Ranger badges after they completed the activities planned by the National Park Service.
The children also sang their school song and another of their favorite songs, "Proud to Be an American," in recognition of all of the men and women serving in the U.S. Armed Forces.