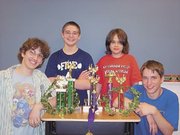 Fairfax High School's Latin I students won the state title in the VJCL State Championship Certamen tournament last weekend at Park View High School in Loudoun County.
Certamen is an academic quiz game much like "It's Academic" or "Jeopardy" in the VJCL — Virginia Junior Classical League. Schools from across the state bring their school's top Latin students to this competition. Certamen is widely recognized as one of the more scholarly, prestigious academic contests available for students.
Both public and private schools attend these tournaments, including teams from Thomas Jefferson High School, Flint Hill School, St. Stephen's and St. Agnes, and many more.
This is the first year that Fairfax High School has competed, and it finished the year as the No. 1 team in Virginia. The winning team consisted of the following students: Sasha Cottle (freshman), Dennis Mahoney (freshman), Phil Murphy (junior), and Blaine Cytryn (junior). The Latin teachers, Greg Kfoury and Kay Carr, are proud of these star students, as is the Fairfax High School administration.