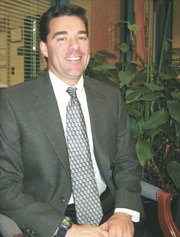 Matt Ragone, 40, of Herndon was named the new principal of Langley High School, replacing the retiring Bill Clendaniel. The Chantilly High School assistant principal grew up in Reston and brings many strengths to the job.
CALLING HIM detail-oriented, Chantilly High Principal Jim Kacur said: "Matt has been what I would refer to as a right-hand, here .... He's a gifted instructional leader with a great work ethic."
Debbie Santmyer, assistant principal of Chantilly High, added: "I think he's going to be a perfect match for that school. I've worked with him for six years and seen him go from teacher to department chair to assistant principal."
Ragone earned his bachelor's degree in history from Mary Washington College, a master's from GMU, and an education specialist degree from Virginia Tech. He started as a part-time history and government teacher at Lake Braddock Secondary in 1992, taught at Falls Church and McLean High schools and moved to Chantilly in 1998.
Through the years, he's coached softball and basketball, and sponsored the Student Government Association, and ran the summer school.
Six years ago he moved into Chantilly High's administration as a subschool principal and oversaw the ESOL and Foreign Language departments, and the custodians and Professional Learning Community Initiatives.
He describes himself as "approachable. I'm a building-relationships kind of guy," he says. "I think the key at Langley is that everybody there has high expectations for their own kids; they have high expectations for their faculty."
He adds: "The key role for the principal is to build relationships with the PTA, with the local business community. And to make sure everybody is focused on what everybody wants for their kids — which is the best opportunity to learn."
While Langley High is consistently one of the top schools in the nation with an outstanding faculty, Ragone hopes to continue to maintain the high bar. "It's been my philosophy to set high expectations and to get the resources for people to meet those expectations," he says.
Robyn Lady, director of student services at Chantilly, adds: "As a colleague, when he says he's going to do something, he does it."
When you get in the heat of the game, Matt's always had an intuitive sense of revisiting things after he's left a situation ... he's not just diplomatic, he actually cares about the people he works with."
KACUR praises Ragone's gifted leadership abilities and detail-oriented management style. "One of the things that he brought was a stability with his knowledge of the staff ... he's a really good person and we'll definitely miss him."
Ragone is also quite tech-savvy and helped install Smart Boards and Geometer's Sketchpads in the school's math department. He hopes to make that a focus at Langley — with its 10-classroom addition being finished by the fall. "They could use a big technology infusion," he said.