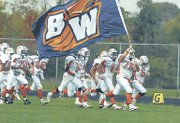 As a youngster, John Maghamez was a loyal Virginia Cavaliers fan. He loved rooting on the UVA football, basketball and other athletic teams that represented the dark blue and orange of Charlottesville.
Now, as a recent Briar Woods High School graduate, Maghamez is about to live one of his childhood dreams. Maghamez, who started at center position the past three years for the Falcons' football team, is going to have a chance to play the sport at Virginia this upcoming fall.
Maghamez, who is 6-foot 3 inches, 285 pounds, will be a part of this year's Cavaliers' football program as a preferred walk-on. He will be red-shirted this fall, meaning he will not play in any games in the 2008 season, in order to get acclimated to both the university's academic life and the demands of preparing himself physically and mentally for the rigors of a four-year college football career within the ACC.
Briar Woods head football coach Charlie Pierce contacted the UVA football program during Maghamez' senior year of high school to let them know he had an unheralded player who could potentially help the Cavaliers on the gridiron. Pierce, who over the years has conducted summer football camps on the UVA campus, has a familiarity with the UVA staff and encouraged them to take a hard look at Maghamez. They did and eventually offered him the opportunity to play on the team as a non-scholarship player.
Maghamez, earlier in his search for a school, had looked at the potential of attending and playing football at colleges as Davidson University (N.C.), Columbia University (N.Y.) and William & Mary. One day, Pierce said to him, "You've always loved UVA, let's give it a shot."
That started the ball rolling for Maghamez to apply to Virginia and to test the waters for him to be a part of the football team. Ultimately, when it was understood that Maghamez was being offered a chance to do just that, he did not hesitate to give his consent. So, in late March, he contacted UVA to let them know of his decision.
"I called up and committed to the team," he said. "I said to them I wanted to be a Cavalier."
Maghamez, who as a senior became the first Briar Woods' athlete to ever earn First Team All-State honors, understands he will have to work hard at the sport over his upcoming red short season and throughout his collegiate career.
"I know I have my work cut out for me," said Maghamez. "It won't be easy. I've been working out six days a week, I have the mindset of an underdog."
Maghamez said he will continue to play center in college. Coach Pierce, who played the same position during his collegiate days, said Maghamez will need to continue working on his strength among other things.
"He needs to get a lot stronger and quicker," said Pierce. "He's already got the heart and determination [to excel] in place. He's always wanted to go to UVA."
<b>AT BRIAR WOODS</b>, Maghamez was one of the program's building block players, along with QB Alex Munro, over its initial years of existence.
The Brambleton area school opened just three years ago. The football team played a JV schedule over its first year of existence in the fall of 2005 before playing a varsity schedule within the tough Dulles District each of the past two seasons. Amazingly, the Falcons have put together consecutive winning seasons and even made the Region II playoffs for the first time last fall.
Maghamez, as the team's center game-in and game-out over the last three years, has been a huge part of the Falcons' success. He led an offensive line that allowed just nine sacks over all of last season.
"You couldn't ask for a better lineman to anchor the line," said Pierce, in an interview last November. "He makes the calls for the blocks. I was a center in college and know what it takes."
More recently, Pierce reflected on what Maghamez brought to the Falcons' football program.
"John was accountable [for the line calls] and a leader on the field and in the school," said the coach. "He always blocked through the whistle and wanted to dominate [his opponent] until the whistle blew."
Maghamez struggled through some shoulder problems during his senior season, but managed to continue playing at a high level.
"He played through it," said Pierce. "People recognized him as being the best center in the district."
The two-year Briar Woods captain earned First Team All-District, All-Region and All-State accolades as a 12th grader. His picture is displayed in the school's athletic trophy showcase as a result of his First Team All-State selection.
He said the football team was determined to be a winner right from the time the school's doors opened.
"From day one, we always had the mindset we were going to take the program far," said Maghamez, of the determination of both players and coaches over the last three years. "When it really happened, it was amazing to think that a second year varsity team could go that far."
Along with his football prowess, Pierce has been a stellar student in the classroom where he carried a 4.0 GPA, made the National Honor Society and received an Academic of Excellence Award. He was Vice President of the Student Government Association as a senior and was sports editor of the school newspaper, The Falcon Flier. He hopes to one day work in the sports journalism field.
"He's well respected in school, very articulate and respectful to adults," said Pierce.
In July, Maghamez will play in the annual East-West All-Star Football showcase game in Hampton. He will be a member of the East squad. The game is for graduated seniors.
Maghamez, who is a born again Christian and a member of McLean Bible Church, credits his faith with the success he has realized.
"I'm a strong Christian and have always given God all the credit," he said.
He is grateful for the support he has received from his coaches and his family, particularly parents Al and Michele.
"I want to thank coach Pierce for everything he's done for me," said Maghamez. "He's a class act. And I want to thank my parents."