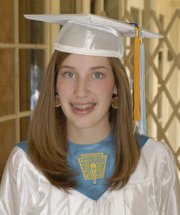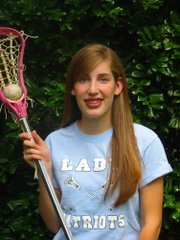 As fourth of six children, and the third daughter of Clifford and Mischelle Dean, Maggie Dean probably had an interesting time adjusting to having to be the senior leaders in both field hockey and lacrosse throughout her senior season.
Heck, in both sports, she has more sisters than she did classmates. But Maggie Dean rolled on, transforming her quietly competitive leadership skills into an undefeated district regular season and district title in girls lacrosse.
"It really helped me out that I had been playing on varsity for four years," the recent Yorktown graduate said. "It was cool to be a senior who could help out the younger people."
Dean, one of only two seniors for fourth-year head coach Robin Steinberg, finished her career as a repeat All-Northern Region selection.
"We had a lot of young talent," Dean said, even citing starting goalkeeper Libby Kane, who had never picked up a lacrosse stick prior to the season. "It wasn't bad — it was actually a lot of fun. We had some really good surprising players."
Scoring three goals, she was the difference in a 12-9 midseason win over district rival Falls Church, who Yorktown again defeated in the district championship.
"We ended up being a lot stronger than we thought even though we lost a couple games early," Dean said. "We had gone from the beginning of the season in losing to winning our district games by a lot. Going back into the regionals, it was different."
A usually defensive minded midfielder, Dean relished in taking on the brunt of the offensive load, even if the Patriots failed to emerge from the first round of the Northern Region tournament.
"I was trying to score more this year," Dean said. "I like to play both ends of the field."
The goals, and non-stop motor eventually caught the eye of Division III Christopher Newport and then-coach Kwame Lloyd, who has since taken over Vermont.
Dean, not knowing initially that she wanted to play college lacrosse, visited the Newport News, Va. school and was immediately hooked. She will join 2007 grads Chrissy Rogers (West Springfield), Danielle Guessford (Mount Vernon), along with a core of Northern Virginia natives.
The Captains posted a 13-6 record in 2008, the highest win total in the eight-year history of the women's lacrosse program at CNU, and recently promoted interim coach Carolyn Raveia to the head position.
<b>ACCORDING TO</b> her father, Clifford Dean, Maggie Dean's competitive desire is derived from her sense of family.
"It was a blast watching Maggie," Clifford Dean said. "She's always been quietly competitive. As a lacrosse player, she has great field sense, and she's used to having be a team player."
Maggie Dean, who was also a field hockey captain and one of only four seniors for a mediocre Patriot team that bowed out in the district semifinals and regional opening round, teamed with younger sister Elizabeth Dean, yet another sister, who will be a Yorktown senior next season.
"It definitely makes me more flexible because there's a million things going on at once," Maggie Dean said about her family. "But at times it does get a little hectic. I've always loved it. You really learn a lot about yourself…It's fun to have a big family where you can bring your friends home and there's a lot going on."
While she's busy looking back, she eager to head three hours southeast, and finally get college underway.
"It felt like high school had been a long journey, and it feels good to be done with school," Maggie Dean said. "It was bittersweet. It was sad and exciting all at the same time."
For her father, watching last week's graduation allowed for a sense of reflection and modest pride.
"She's worked really hard and achieved a lot so I'm happy to see her graduate," Clifford Dean said. "It's another milestone in her life and another achievement. It's time to turn the page and move on the next thing."