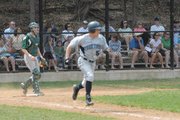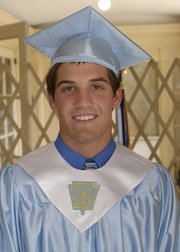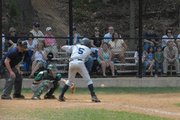 For two years during the basketball season, Steven Kouril had a nagging high ankle sprain. So when the recent Yorktown graduate didn't make the varsity team as a senior, possibly because of fear of further injury, he immediately went out for the indoor track team.
Running as part of the 400-meter relay team in the season-opening track meet, what did he do? He again tweaked his ankle, though the Patriots still won the event.
"When he called me from the field, he told me he hurt his ankle," said Gail Kouril, Steven's mother. "When I asked him how he did in the race, he said, 'well, I won the race.' That was typical for Steven because if he got hurt, he'd make sure he did his best job along the way."
A few months later, the seemingly snake bitten senior dove for a baseball in preseason drills. His glove hand got awkwardly caught underneath his body, and before the season had even started, Yorktown was without its star centerfielder.
"That was a bummer," Steven Kouril said. "We hadn't played a game yet so I had to watch all of the non-district schedule pass me by."
As Steven Kouril missed the first three weeks, the Patriots dropped games to Oakton and Chantilly, both regional stalwarts. But a midweek loss to T.C. Williams was especially tough to endure, especially knowing he likely could have helped his team generate much-needed offense.
"It was tough to watch," Steven Kouril said.
He returned against Washington-Lee on April 9, and the Patriots didn't look back. Yorktown earned a 4-1 home victory against Edison to capture its second straight district title five weeks later. More importantly, it was a Northern Region-best 17th straight win, and ensured the Patriots as the only team in National District history to finish the regular season and district tournament without a loss.
"It wasn't the strongest year for the National District," said Steven Kouril, who earned all-region honors. "Doing something that so many previous guys couldn't accomplish, it's something I'm going to remember the rest of my life. Too bad we couldn't finish it off in the region, but it was a big deal to us."
Yorktown was blasted in the Northern Region tournament, in embarrassing fashion at home to Robinson — a game where the Patriots didn't even advance a runner to third base.
"It's always more fun to win," Gail Kouril said. "But anything can happen in baseball."
<b>EVEN THOUGH</b> he had opportunities to play baseball in college, Steven Kouril deduced early on that he'd rather attend a prestigious academic school rather than continue to chase the dream. Following the eldest brother Geoff, who graduated in 2007 and is now a civil engineer, Steven Kouril will enroll at the University of Virginia next season.
"That was his first job," Gail Kouril said. "Above all, academics came first. He likes to do well. If he puts his mind to it, he's going to do the best that he can."
Though he's somewhat anxious about finding a major, the National Honor Society and Spanish National Honor Society member, hasn't completely given up on baseball, whether that means joining a club team or the varsity as a walk-on, though both are considered long shots.
"I know that I don't want to miss that opportunity," Steven Kouril said. "I don't think I'd be able to sleep at night knowing that I at least didn't give it a shot. I never really explored playing baseball in college."
Kouril, who the Yorktown athletic officials said "is a role model for younger players as well as a respected friend of his peers," said that donning the graduation gown and cap during last week's ceremony was a little odd.
"It was bittersweet," Steven Kouril said. "It was maybe the last time I'll see all of my friends and classmates in the same place. It wasn't what I imagined. It was a little weird…I didn't realize what an important day it is because you may never see some of those people again."