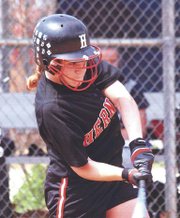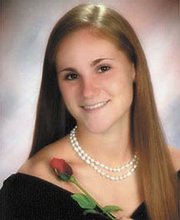 Chances are usually pretty high you can find Herndon High girls' softball standout Marra Hvozdovic on a diamond somewhere working on her game.
Hvozdovic, a key member of a Hornets' squad that made it to the state AAA playoffs this past spring for the first time in the program's long history, simply loves the sport. The center fielder, over her high school career, spent many hours working on her hitting, fielding and overall game.
"I don't know if I ever had a kid who studied softball all the time," said recently retired Herndon High coach Bonnie O'Hearn, who stepped down following this past spring season following 13 years in charge of the program. "She watches college softball [on TV] all the time. She's a softball fanatic. And she is extremely knowledgeable about the game."
Hvozdovic's zeal for the game certainly was contagious on a veteran Herndon team that was determined to break into new postseason territory in 2008. The Hornets reached the Concorde District and Northern Region finals games, and competed at states.
Hvozdovic, who will be a member of the Virginia Tech women's softball squad in Blacksburg next school year, earned First Team All-Region and All-District honors during her senior season. From her leadoff position in the Herndon batting order, she led the Hornets in hitting with a .500 average (42 hits in 84 at-bats). She scored 18 runs, knocked in 12, pounded around 12 doubles and homered and tripled once.
Her slugging percentage was .682 and her on-base average was .571 (12 walks). There was only one game all season in which Hvozdovic failed to get a hit. In center field, she made no errors and had 18 putouts.
"She has a great eye for the ball and rarely strikes out," said O'Hearn. "She's a gap hitter."
<b>BUT FOR ALL</b> her stats, Hvozdovic was more concerned about her team's success and the players who made up the Hornets' squad. Often throughout the season, the popular team captain would work with teammates who were having difficulties at the plate.
"She'll find a kid who is struggling at the plate," said O'Hearn. "She knows the technique of hitting."
Prior to games, Hvozdovic would often pass out encouraging, uplifting poems that she had written to her teammates.
"She'd get them all pepped up before a game," said O'Hearn. "She's always very helpful, spirited and motivated."
The coach believes Hvozdovic will fare just fine in the college game.
"I think she'll do a great job," she said. "She doesn't try to be a power hitter and she gets on base so often."
Hvozdovic attracted the Virginia Tech coaching staff's attention about a year-and-a-half ago while competing in travel tournaments. She kept in contact with the Tech folks by e-mail. Eventually, she asked if there was a chance she could one day make the Hokies' team as a walk-on. She was told that there would be a roster spot for her if she was accepted academically to Tech. Being a strong student-athlete, Hvozdovic was accepted by the school and is looking forward to her college future, both in the classroom and on the ball field.
"I kind of pride myself on being a student athlete," said Hvozdovic. "I like doing well in school and on the softball field. I plan on working hard and getting in the starting line-up [at Tech]."
<b>THE YOUNGSTER</b> said she grew a love for softball when she began playing within the Herndon Optimist Youth Softball league as a second grader. She played within the organization for five years and later played for the Travel Fire and Ice U-14 travel team for two years.
"I just love to play," said Hvozdovic. "My parents introduced me to the sport in the second grade. I've always been around softball and baseball. If I'm not playing softball, I'm going to a softball or baseball game."
Hvozdovic's younger brother, Paul, was a member of the Herndon High JV baseball team this past spring.
She has seen Herndon softball come full circle during her four-year varsity career. The Hornets went 4-12 and finished in last place in her freshmen season. Three years later as a senior, she was part of a Herndon team that was one of just two Northern Region squads to earn a bid to the eight-team state playoffs. It's been a remarkable turnaround.
"We've gone so far," said Hvozdovic, who earlier in her high school career saw time in the infield as a shortstop or third baseman. "We made it to the district championship, the region championship and for the first time we had a chance to go to states. I've had a chance to see the program completely change. We've gone from last place [in the district] to second place [in the region] in four years. We finished my senior year 17-10. It's kind of awesome to see the program change."
Hvozdovic said a key to Herndon's success in '08 was the team's overall talent and experience. Eight of the team's 11 varsity players were seniors this past spring.
"We were mostly seniors and got a few new people on the team," said Hvozdovic, who singled and eventually scored Herndon's lone run in a 1-0 region quarterfinals playoff win over South County a few weeks ago. "All of us wanted to [win] together and end our high school careers on a high note."