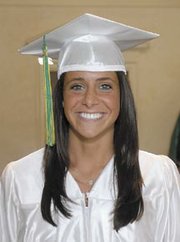 Langley High girls' soccer player Alex Meadows never envisioned her high school playing career ending in such a difficult and heart-breaking manner.
Meadows, a senior starting sweeper for the Saxons this past spring, was looking forward to the season's downs-stretch and upcoming postseason when an injury cut her 12th grade season short. During a late-season game against Liberty District foe Stone Bridge, Meadows suffered a serious knee injury during overtime against the Bulldogs.
"It couldn't have come at a worse time," said Meadows, recently. "It was right before `Senior Night,' right before districts."
But Meadows, while bummed out that her season had ended as a player, took it upon herself to become the Saxons' best cheerleader and team supporter for the rest of the season. Still, it wasn't easy being a spectator.
"It's hard to stay on the bench and watch," she said.
But she heartily encouraged and spurred on her teammates.
"She was almost like an assistant coach," said Langley coach Gretchen Hamm, the Saxons' first year head coach last spring. "She was a real quiet leader when playing. But [following the injury] she really stepped up [emotionally]. She was at every practice and at every game. She was more vocal on the bench than she had ever been on the field. She would be up walking and pacing during games, and talking to the players."
Meadows said she almost had the mindset of being a part of the coaching staff, although, of course, she wasn't.
"I almost felt like an assistant coach," said Meadows, with a giggle.
It was only fitting that after the season Meadows, a First Team All-District selection, was given the team's Most Inspirational Award.
<b>ONE OF THE</b> biggest contributions Meadows made following her injury was tutoring sophomore sweeper Brooke Gallagher, who was the player asked to fill in for the injured Meadows.
"She took Brooke under her wing and guided her," said Hamm.
Meadows, along with senior teammates Ivana Goal Lauren Hakim, had given the Saxons a stellar defense throughout the season.
"She was like the anchor of the defense," said Hamm, of Meadows. "She had great speed and the ability to step up and make tackles if the defense got beat."
When Meadows went down with her injury, she did all she could to work with Gallagher the remainder of the season. During pre-game warm-ups prior to matches, Meadows and Gallagher would spend a few moments talking about the game ahead. Meadows would give the younger player tips or information regarding that night's opponent. Gallagher did a superb job filling in for Meadows.
<b>MEADOWS</b>, who was an alternate team captain for Langley her senior season, is scheduled to undergo surgery on her knee on July 19 at Georgetown University Hospital. She has been going through therapy on her knee three times a week since the injury. Prior to the injury, Meadows had already committed to play soccer collegiately at Flagler College (Div. 2) in St. Augustine, Fla. That has not changed. She plans on working hard following her surgery and preparing for college soccer.
This is not the first time Meadows has dealt with serious injury problems. As a 10-year old she was injured during a youth soccer game and had to have bilateral tendon surgery done on both ankles.
Meadows first began playing soccer as a four year old within the McLean house league, and was a member of the Old Dominion Soccer League at age seven. Eventually, she was playing in the competitive Washington Area Girls Soccer (WAGS) league by age 10.
She overcame her early ankle injuries and continued to play the sport. She has played club soccer for McLean United the past two years. And the eight years prior to that, she was a member of the Bethesda Pride.
At Langley, she played on the Saxons' JV squad both her freshmen and sophomore years and was a team captain both years.
She moved up to varsity as a junior and earned a Student Athlete Award (3.5 grade point average or better).
This past season, as a senior, she was playing at a high level for Langley.
"I was pretty excited. I don't think I ever played as well as I had before I got hurt," she said.
Meadows has grown up playing the sport and wants to continue to do so in college.
"Getting on the field and playing games is the best way to relieve stress," said Meadows. "I get everything out of it and enjoy playing. If it was my choice, I'd be playing tomorrow."
Following her surgery, Meadows hopes to begin jogging in August. She said the earliest she can expect to begin playing soccer again will be next January. With her grit and determination, look for Meadows to be playing the sport she loves again at Flagler in 2009.