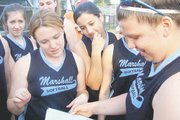 Being the lone senior on her team this past season, Marshall High girls' softball player Samantha `Sissy' Sulser stepped up to the plate in more ways than one.
"She has really great leadership qualities," said Marshall coach Laura Campbell, who recognized those characteristics right away as the Statesmen's first year head coach this past spring season. "She really stepped up as a leader on the team. She helped the other kids during their ups and downs."
The left-handed hitting Sulser, a designated hitter/first baseman, usually batted fifth or sixth in the line-up for Marshall and could be counted on to get big hits in key spots. Although the young Statesmen finished just sixth in a tough Liberty District, Sulser, the fourth year varsity player, could be counted on to give her team quality play both at the plate and in the field. Defensively, she committed just one error all season long.
"She got a lot of big hits for us and she played good defense," said Campbell.
Late in the season, Sulser was honored at Marshall's annual Senior Night home game versus Jefferson. It was a strange feeling for Sulser as the lone Statesmen recognized that evening.
Prior to the game, Sulser was recognized for her contributions to the program. Typically, teams honor several 12th graders during Senior Night tributes. But because Sulser was her team's lone senior, she got all the attention.
Teammates had spelled out with plastic cups, `We love you, Sissy,' on the fence along side the field. And around the on-deck circle, a large blue `M' for Marshall with `Sissy' was painted on the grass.
"They went through all that trouble for me," said Sulser, who was touched by the Senior Night tribute. "I just tried to roll with it. I was a little nervous."
<b>AS A YOUNGSTER</b>, Sulser played youth baseball for nine seasons (summer and fall) within the Falls Church Kiwanis Little League. One time, she was even teammates with her brother, Garlin, who is one year older than Samantha. Both were members of the Marlins' team.
"It was fun," said Sulser, of playing baseball with boys as a kid.
She went on to make a smooth transition to playing girls' softball. At Marshall, Sulser was not a full-time varsity starter until her senior season. Her freshmen year, she played on the JV squad and was a team captain. The following year, as a sophomore, she played JV again, but also got playing time on the varsity as well. And as a junior, she was a backup first baseman on the varsity.
Sulser did not become a full-time varsity starter until her senior year, giving her an appreciation of the hard work it took to get to that position. She had, indeed, worked hard throughout her high school softball career to get better and better. The hard work paid off as she earned that starting role as a 12th grader.
"It was tough [in prior years] not being out there [as a starter]," she said. "But I learned you don't have to be out there [on the field] to be part of the team. I could cheer from the bench and still be part of the team."
A pre-season injury — a fractured finger that occurred in the weight room— stymied Sulser a bit early in her senior season. As a result, she was limited to DH duties early on in the spring. But soon after, she was healthy enough to play in the field as well and went on to have an all-district caliber season.
"I thought I was going to [struggle] because of my finger," she said. "I just tried to fight through it. I dealt with the injury and did the best I could for the team."
<b>FOR SULSER</b>, the team has always come first. So it was natural for her to evolve into a leader to her younger teammates.
"She really helped to lead the team. She definitely worked very hard this year," said Campbell. "In the past, I don't think she started."
For her senior season, Sulser batted .320 with eight RBIs (second on the team) and five doubles (first on the team). She earned Honorable Mention All-District accolades for her fine and steady play. She was a team co-captain, along with teammate Elizabeth Stonehill, a junior.
"She was just real consistent," said Campbell, of Sulser's game. "[Both captains] were outstanding leaders. They were up [emotionally] when we needed them to be."
Sulser, who graduated with her senior classmates on June 13, will attend Old Dominion University next school year where she is leaning to study business. At Marshall, where she carried a 3.2 GPA over her four years, Sulser was part of the Future Business Leaders Association during her senior year.
She loved her time in high school.
"I've liked hanging out with all my friends at school," she said.
Sulser was spending this week on a weeklong mission trip to the Myrtle Beach area through her church, Andrew Chapel United Methodist.