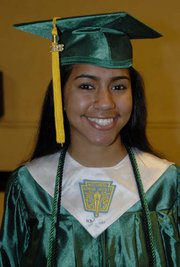 When Madelaine Torres moved from Peru to the United States in 1998 she didn't speak English, disliked American food and was unsure how she would adjust to the culture change. Over a decade later, Torres shined as a student athlete at Wakefield and is continuing her academic career at Virginia Tech in the fall.
"I definitely did not see myself where I am today when I moved here," Torres said. Her family moved from Peru to live the American dream and because Torres mother's family lives in the United States, she said.
The dual-sport athlete won numerous awards in field hockey and lacrosse. She was selected as the team's most valuable player for three years in lacrosse, along with three consecutive all-National District honors.
Torres continued her success to the field hockey team being named team MVP all four years and snagging three first team district honors her last three years.
Her favorite sport of the two was lacrosse because it was quicker and had more open space. She started playing both sports around eighth grade because she wanted to get out of the middle school mold. It was then when seniors of the Wakefield varsity programs noticed her talents and said she would become a star.
The now 18-year-old was a standout in the classroom too, being named the Principal's Honor Roll nearly every semester of her high school career. Students who make the list earn a 3.7 grade point average or higher.
Torres also mentored at Wakefield and did Peruvian Folklore dancing. Despite her many talents, she believes people don't realize how much of a well-rounded person she is.
"I do it all. People think I am either the fun girl or the sports girl but people are surprised I do cultural dancing, volunteer work and get good grades. I am underestimated," Torres said.
Her fellow lacrosse teammate and close friend, senior and William & Mary bound Daisy Diaz, has seen both sides of Torres.
"Off the field she is very goofy and silly and always laughing and has a smile on. On the field she is intense and is one of the most driven people," Diaz said.
Torres' journey through the Arlington County public school system is a big reason she was able to adapt to everyday American life she said.
"Getting interaction with diversity and different cultures and playing sports really helped," said Torres, who noted that her parents originally wanted her to attend private school. The halls of Wakefield also taught Torres many life lessons that she said she will never forget.
While at Virginia Tech, Torres plans on majoring in economics, but will not pursue an athletic career. After gradating from college she hopes to work for the World Bank.