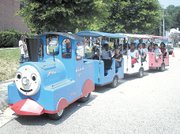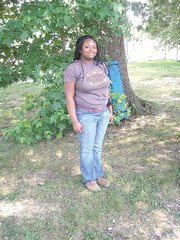 Last Saturday, the self proclaimed "Capital of African American History" celebrated its 175th Anniversary. Starting with a morning parade, the Gum Springs Community in Mount Vernon District put on a full day of live entertainment, kids rides and slides, free health screenings, and lots of good food at the Community Center on Fordson Road.
Mount Vernon District Supervisor Gerald Hyland declared June 21, 2008 as "Gum Springs Day" with a proclamation from the Fairfax County Board of Supervisors. Celebrity guests included Supa Ken of WKYS and the Grand Marshall Singers.
"So far we've had about 150 people attend and we hope to top 200 by the time it ends at 6 p.m.," said Anthony McCallum, president, Gum Springs Youth Association.
Proceeds from the Annual Community Day go to support the youth and civic associations, according to McCallum. "This is a great turnout. Everyone enjoyed the parade and the police and fire departments have been very supportive," said Judith Garrett, president, Gum Springs Civic Association.
One attendee, Lashayla Eason, an 11th grader at West Potomac High School, who was collecting donations for the two organizations, will be taking a major trip this summer to represent her school and the community. As part of the International People to People Program she will spend 17 days in Beijing, China.
"I'm being hosted by a Chinese family which will give me an opportunity to study Chinese culture and share our culture with them. I also get to walk on the Great Wall," she said.
"I'm really excited about the trip and all the opportunities it presents. But, I'm also a little nervous," Eason said.
Inside the Community Center attendees had the opportunity to register to vote and avail themselves of several health screening tests. In addition to the Center and Civic Association, the event was sponsored by the Gum Springs Advisory Board, Gum Springs Historical Society, and Christians in Action for Positive African American Men.