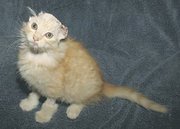 Though the Vola Lawson Animal shelter contains dozens of cats, dogs, rabbits, birds, ferrets and other animals waiting to be adopted, there is one animal that seems likely to catch the eye of anyone scanning the cages. This is because one small kitten- known affectionately as Joe- is missing the fleshy parts of his ears after remarkably surviving an encounter with a running lawnmower.
According to Diann Hohenthaner, the Special Events Coordinator for the shelter, Joe was run over by an industrial lawnmower cutting a field of tall grass. Unlike his younger sibling, who died at the scene of the accident, Joe was able stay alive, though not without serious injury.
"He was just hunkered down, and his ears were cut and mangled. His head was also cut down to the bone," Hohenthaner said. She added that Joe was "found sometime later by a good Samaritan."
After being treated by a local veterinarian, who wished not to be publicly identified, Joe was surrendered to the shelter and immediately he began the process of getting ready to be adopted. Despite the unusual circumstances, the normal paperwork was filled out- albeit with a few extra questions- and the situation moved forward as it does with all pets.
"We really stick to procedure here, even with fantastic stories," said Lisabeth Adams, Director of Development for the shelter. Adams explained that allows the shelter to make sure that they "provide the same care for all animals."
Amazingly, there seems to be no lasting personality issues in the small orange kitten, who is scheduled to get his stitches removed and go off antibiotics within a week- after only two weeks in the shelter.
"It's just amazing to me to interact with him and what a dear, sweet soul he is. I don't think I would recover so quickly," said Adams.
Equally incredible is the fact that Joe will not require any special care or veterinary attention due to his injuries. The only thing different for him will be that he will not be able to go out in the rain, though according the Hohenthaner and Adams the shelter highly recommends that all cats be raised indoors. Adams even managed to find one way that Joe would be easier to raise than other cats.
"I think his ears will be easy to clean," she noted.
Though Joe's story seems to be heading for a touching movie script ending, Hohenthaner pointed out that incidents like this happen too often, and are more often than not fatal.
"If [people] learn anything from his situation, it's just to look in the tall grass," she said, noting that lawnmowers frequently run over and kill or mangle animals like rabbits. Hohenthaner also pointed out that this situation is not limited to large industrial mowers operated in public places.
"It can also happen to people in their own back yards," she said.
Despite these grave warnings, and despite how perilously close Joe himself came to death, the story is still one of overwhelming hope and joy.
[Joe will] be looking for another home pretty soon," said Adams- and it seems that is all anyone could ask for.