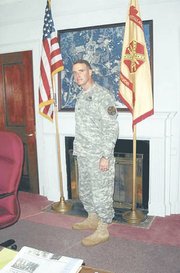 Three years ago next month Col. Brian W. Lauritzen became the Installation Commander of Fort Belvoir. On July 2, he will not only relinquish that command to Col. Jerry Blixt but also complete a 26-year military career that began with a West Point graduation in 1982.
A little more than 60 days after Lauritzen took command of Fort Belvoir he was presented with one of the greatest challenges of his career. On Sept. 8, 2005 the Base Realignment and Closure Commission (BRAC) made their final report to the President of the United States.
That report, calling for a host of base realignments nationwide, established the blueprint for the transition of Fort Belvoir into one of the most strategic posts of the U.S. Army. Nearly 20,000 personnel would be added to the existing Belvoir compliment of just under 60,000.
This triggered both excitement and anxiety among national, state and local leaders as well as business and public education professionals. The opportunities were and are vast coupled with a like description of the challenges.
At the center of this socio-economic F5 twister was Lauritzen. With a BRAC deadline for full implementation of Sept. 15, 2011, it would be his job to balance the priorities of a post 9/11 military game plan with the needs and concerns of the surrounding communities and their constituencies. "A jigsaw puzzle with changing pieces," as he once described it.
"This is a very interesting time in our history and that of Fort Belvoir. We are in the next wave of Belvoir's transition," Lauritzen said sitting in his headquarters office conference room just prior to the U.S. Army's 233rd birthday.
"Over the years we have built up this base and torn it down. We have grown the population and shrunk it. We are an army at war now. Things are very different than when that is not the case," he said.
Belvoir came into being during World War I as Fort Humphrey. It was renamed Belvoir with World War II. For many years it was the home of the U.S. Army Corps of Engineers. Now it has become much more of an overall Department of Defense organization with only about 10 percent of its overall personnel compliment actual U.S. Army personnel, according to Lauritzen.
During a recent community public information meeting, Lauritzen noted that although BRAC implementation is a major operation now, "It is only a blip on the screen in the long run. We're the drop of a stone into the lake with BRAC." It will be over at that deadline point and things will go on.
"Will there be another BRAC? And, if there is, will Ft. Belvoir be a loser or a gainer in that one," he asked rhetorically.
With the primary BRAC change on the main post being the construction, staffing and development of the new DeWitt Community Hospital, Lauritzen theorized, "Maybe, this base will become known as an advanced, superior medical facility," he said.
"I believe DeWitt will redefine how people think of Belvoir -- much like they have thought of Walter Reed over the years. I'm sensing that this new hospital will cast a long shadow," Lauritzen predicted. The new medical, campus-like facility is now rising just inside the post's main Pence Gate.
"BRAC has defined my time here. It is the primary interest of the community leaders and population, the media, and the military because it calls for the intertwining of people, time, infrastructure, and dollars," Lauritzen said.
"What is sometimes lost in all this is that there are some 23,000 to 24,000 people on this base working everyday that have nothing to do with BRAC. They were here before BRAC and will be here after BRAC," he said.
"I have many people on staff here who could have moved on in their careers but didn't because they are committed to Belvoir. I've got a whole bunch of unsung heros here," Lauritzen said.
DURING ITS June 2 meeting, the Fairfax County Board of Supervisors (BOS) paid a special tribute to Lauritzen and his efforts to bring all parties to the BRAC table. "It's no secret the BRAC process has been very difficult," said BOS Chairman Gerald Connolly.
"But, through it all Col. Lauritzen has been the one who has continuously found solutions for our community. He has exemplified outstanding leadership and we wouldn't be where we are today without him. We own him a great deal of thanks on behalf of all the people of Fairfax County," Connolly said.
For Mount Vernon District Supervisor Gerald Hyland, where the majority of Ft. Belvoir is located, Lauritzen's ability to reach out to the community and keep everyone not only informed but also in the overall BRAC decision making process was paramount. "When the BRAC announcement came out we didn't expect to have a large town in the middle of Mount Vernon District," he said.
"But, Col. Lauritzen stayed calm and cool during the process even when many were asking how we were going to accommodate an additional 20,000 people. With all the pressure put on his shoulders he performed tremendously," Hyland said. Some of that pressure was supplied by Hyland who often raised question about incoming personnel and their impact on schools and other community concerns.
In response Lauritzen acknowledged that, "An important part of my job is to have an established link with the county and its residents. Any commander must be a steward of that relationship."
Analyzing BRAC's metamorphosis, Lauritzen reflected, during the interview, on the fact that, "A lot of what were are dealing with now is because it was not dealt with originally in the process. Three years ago we didn't realize some of these things were going to be a problem."
As an example he cited the transportation component of BRAC implementation. "We should have asked what would be the transportation impact of all this on specific areas right from the beginning. It was always under study but there were elements we should have been more cognizant of," he said.
"But, at the end of all this, I hope we've gotten it right. By that, I mean right for everyone -- the Army and our surrounding communities," Lauritzen said.
As for him, following the July 2 Change of Command, Col. Brian W. Lauritzen will become private citizen Brian Lauritzen. He, his wife Anne, and their two children, Daniel, 12, and Kristen, 9, will move to Carlisle, Pa., where they have a home and two horses. Located about 20 miles west of the state capitol in Harrisburg, Pa., it is the home of Dickinson College and Law School as well as the seat of Cumberland County.
"We bought the home in 2003 when I was attending the U.S. Army War College in Carlisle. We liked the town and decided it might be a good place to retire so we kept the house when we came here," he said.
A 1982 graduate of the West Point Military Academy, Lauritzen received his Master of Arts from the Colorado School of Mines in 1992. He also holds an MA in mathematics with a specialty in Operations Research.
His military education includes graduating from the Command and General Staff College at Ft. Leavenworth, KS, in 1995 and the Army War College in Carlisle in 2004. "I have to definite plans right now. I've got a lot of interests and hope to apply my training and experience in installation management somehow," he said.
"I felt this was the time to retire and start on the next phase of my life. But, it was a family decision. Everyone had a part of it," Lauritzen said.
"If I had stayed in the military it would have required at least a five year commitment. You can't do it a year at a time and do it right," he said.
"I want to enjoy the years with my family as the children grow up and experience all those growing up events with them as well as give them a stable environment for their schooling. My son will be graduating from high school in five years," he stated.
"This is the best time for all of us. It's been a great experience. But, you just know when its time for a change," Lauritzen said.