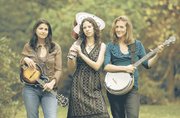 Red Molly will perform at IOTA on Saturday, June 28. They won Artist of the Year in 2006 from Boston. Their CDs have been in the Top 10. For more information, visit www.iotaclubandcafe.com.
<b>Introduce yourself or the band:
</b>Hi, I'm Abbie Gardner (vocals, Dobro, guitar) from Red Molly. My bandmates are Laurie MacAllister (vocals, guitar, banjo) and Carolann Solebello (vocals, bass, guitar).
<b>How did you get your start in music and how long have you been performing?
</b>We've each been performing solo and in various different groups for years, but started playing together as Red Molly in 2004. We were kicking some songs around at our campsite at the Falcon Ridge Folk Festival (New York) that summer and fell into a three-part harmony almost by accident.
<b>If applicable, How were your musicians chosen?
</b>Well, we were the last ones up at our campsite. Ha!
<b>What is it that you love about performing?
</b>I love being able to get people up dancing or move them to tears with the power of a song. We've ended most of our shows recently with an a cappella version of Susan Werner's song "May I Suggest" and it's been a special one for most audiences.
<b>Where is your favorite place to play, either publicly or personally?
</b>Falcon Ridge Folk Festival. That's where we formed and we'll be playing the main stage there this year. We won the emerging artist competition in 2006 and performed in the most wanted song swap in 2007. Now we'll be returning as featured performers. It's like coming home!
<b>Best compliment about a performance?
</b>Well, one of the most memorable was at the 2007 Falcon Ridge Folk Festival, on the workshop stage where Lucy Kaplansky said "You guys are awesome!"
<b>What is your favorite piece of music and why?
</b>Right now it's "You'll Never Leave Harlan Alive" by Darrell Scott. It's a masterpiece of songwriting and we've arranged our own version of the song in a way that makes us really really happy! It's a dark song, but it has so many layers to it.
<b>Who would you love to play with? Why?
</b>Well it's probably different for each person in the band, but we're all big fans of Darrell Scott. He's an amazing songwriter, but also such a talented and engaging performer. Not to mention he's got a beautiful voice and can play several instruments really well.
<b>Describe your sound:
</b>We play a variety of stringed instruments, and sing tight three-part harmony, creating a distinctive rootsy, Americana sound.

<b>Biggest musical influences:
</b>Patty Griffin, Simon & Garfunkl, ABBA, Jerry Douglas, etc.
<b>Where have you toured?
</b>Mostly in the Northeast, though we've just started flying to shows as well. Our upcoming travel plans include Florida, Alabama, New Mexico, Texas, Georgia, Rhode Island, Maine, and the list goes on!
<b>Anything special about the upcoming show at Iota?
</b>The new CD is the biggest thing. Also, we're fairly new to the D.C. area, so we're hoping to meet a lot of new people.
<b>How would you describe the sounds of this new CD?
</b>First full-length studio CD: "Love and Other Tragedies" (2008)
Produced by Ben Wisch, "Love and Other Tragedies" finds the women of Red Molly adding a little spice to their winning recipe. The new album features a fuller, more "polished" sound than their previous releases, due in part to the contributions of guest artists Mike Weatherly (upright bass), Duke Levine (mandola, lap steel), and Jake Armerding (fiddle). In addition, the ladies incorporated more original songs into the mix this time. Songs written by Laurie, Abbie, and Carolann mingle admirably with songs by well-known contemporary writers Gillian Welch and Susan Werner, up-and-coming artists Amy Speace and George Wirth, traditional American gospel tunes, and standards from the bluegrass and jazz worlds.
<b>Future plans:
</b>Well, we have an ambitious touring schedule to promote the new album, including a bunch of outdoor summer festivals. YAY!
<b>What would you recommend to someone starting out in the business?
</b>Follow what you love about music and go from there. If it isn't making you happy, don't do it.
<b>Any parting thoughts?
</b>Love and Other Tragedies just made it on the Top 40 of the Americana Charts this week! We debuted at #37!! Only three artists on the top 40 are independent (without a record label to back them) so we're pretty excited!