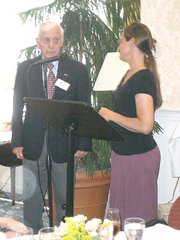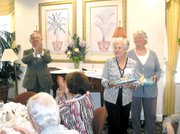 Outstanding volunteers and retiring Board of Directors members received special recognition last Thursday during Senior Services of Alexandria's 40th Annual Membership Meeting and Volunteer Recognition Luncheon at Goodwin House.
Robert Bussler received the Outstanding Volunteer Award for his decade-long participation in SSA's Meals on Wheels Program. A veteran of World War II and the Korean Conflict, Bussler is one of SSA's "Key Volunteers" who are responsible for garnering other volunteers to cover six routes per month, according to Samantha Pipkin, Meals on Wheels coordinator, who presented Bussler with the special award.
"A key volunteer has the responsibility of supplying 60 volunteers, five days a month to make our meal deliveries possible. That's a heavy responsibility," Pipkin said in making the award.
Also honored for her role in the program was Virginia Smith who has been an SSA volunteer for nearly 20 years, according to Pipkin. Smith was not able to attend the luncheon.
Special recognition was also paid to Susan Winn and Sandy Calhoun as outgoing members of SSA's Board of Directors. Winn, an SSA past president, served as this year's nominating committee chair and presented the incoming slate of officers and directors during the membership meeting portion of the luncheon. Alfred P. Duncker, a third outgoing Board member, was not present.
Kicking off the two hour event, Senior Services of Alexandria President Carl D. Behnke told the audience that SSA is "a very credible organization that is well respected within the Alexandria power structure. The picture that has emerged is that we are well run and well organized." He attributed "the lion's share" of that assessment to SSA's new executive director Janet Barnett who assumed that role at the beginning of 2008.
Behnke also alerted the membership that, "We need to strengthen our relationship with major donors. To accomplish that we are hiring a development specialist to increase our visibility with potential major donors."
Prior to presenting the special awards, Behnke conducted the formal election of the new offices and Board members. By voice vote the following slate of officers, as proposed by Winn's nominating committee, were elected unanimously:
Behnke, president; Mark N. Roth, vice president; H. Arthur Sauer, secretary; John B. Smith II, treasurer; and Barbara Lord, corresponding secretary.
In addition ten new members were elected to the SSA Board of Directors. They join six members serving a second term.
Following the award presentation, Barnett introduced Barbara Barton, president, Barton and Barton Travel Consultants, as the event's guest speaker. Her topic, "Seniors on the Move - A Road Less Traveled," spelled out various travel considerations particularly aimed at senior citizens.