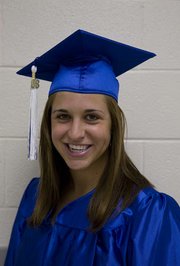 During Fairfax High School's 2008 graduation ceremony, Principal Scott Brabrand referred to 2008 as "the year of champions here at Fairfax High School." Fairfax graduate Emily Ferguson particularly enjoyed that line as she was a member of the Fairfax girls swimming team that won the school's first team state championship in the school's 72-year history.
"[When you enter high school] everyone thinks about winning states," she said. "I was probably the most exciting thing in my high school career."
That's saying something, as Ferguson's swimming career at Fairfax High School has been filled with excitement. She currently holds the school record in all four individual freestyle events, was the anchor of the girls 200-medley relay that broke the state record this winter, and the anchor of the girls 400-freestyle relay that holds the school record.
"When I think of Emily, it's that calm confidence that she has and the way that she gets her teammates to rally around her performance," said Fairfax head swim coach Matt Salerno. "She got the good swimmers to swim even better."
<b>BEFORE ENTERING HIGH SCHOOL</b>, however, Ferguson split her time equally between soccer and swimming. Both sports became almost like a full-time job for the Virginia Tech-bound swimmer.
"Her swimming coach wanted her to swim full-time and the soccer people didn't really want her to swim," said her mother, Barb. "She chose the sport that she really enjoyed. That was what she committed to from that point on."
When Ferguson entered the Fairfax swim program, her presence was immediately felt.
"Emily has been a leader since she was a freshman. As the years went on, she became a stronger swimmer and a stronger leader. Between her work ethic and the way that she carried herself, that set the tone for the rest of the girls," said Salerno. "As she went through her years, she expected more out of herself."
During the summer, Ferguson swam for the Hayden Village Villains and swam year-round for the Potomac Marlins. During her sophomore year, she made her first Junior Nationals cut. At that point, Ferguson and her parents realized that her swim career would likely be able to continue when she went to college.
She looked at the swim programs at North Carolina State and Penn State before accepting an athletic scholarship to Virginia Tech.
"I liked the team and the coaches and that was really important to me because I am going to be around them a lot," she said. "I knew that I wanted to swim in college. That was what I wanted to do because I love it."