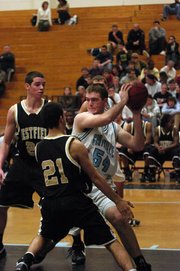 Centreville graduate Drake Diamond set out to do as much as he could during his four years in high school. The boys basketball captain not only was a leader on the court for the Wildcats, but he also excelled on the Centreville tennis team, was a co-editor in chief of the school newspaper and was the captain of the school's "It's Academic" team. He also maintained a 4.016 GPA.
"In any endeavor whether academically or athletically, he always gave his best," said his mother, Patty. "He is a very self-directed, teachable, hard-working young man."
The 6-foot-8 Diamond started playing basketball in the second grade and worked his way up the Centreville ladder on the freshman and junior varsity teams before joining former head coach Brian Doyle's squad last year.
"In high school, we talk about the student-athlete and sometimes that gets lost a little bit," said Doyle. "He is a great example to the kids on the team or kids that watch our team play. You can be successful both in the classroom and on the basketball court."
<b>WHILE BASKETBALL</b> dominated his winter months, this spring, Diamond decided to go out for the Wildcats' tennis squad, earning a role as Centreville's No. 5 singles player.
"I took three or four lessons to get the basics then I played with my dad and a bunch of my friends and I guess from watching people better than me play, I got better," said Diamond. "I just played over the summer once or twice a week for fun."
Diamond earned a 7-5 record and was voted the team's most valuable player.
"I didn't want to look back on my high school life and say, 'What if I had done this.' I wanted to try new things because if you are living a static life, it gets boring after awhile," said Diamond.
As his basketball career at Centreville drew to a close, Diamond decided that he wasn't ready to stop playing the sport.
"I decided that I wasn't happy with ending my athletic career after high school," said Diamond, who looked at a variety of colleges before settling on Div. III Wheaton College in Wheaton, Illinois.
"Basketball wasn't going to determine where he was going to college. He was really looking for the best fit academically and socially," said Doyle.
Wheaton is a member of the College Conference of Illinois and Wisconsin and finished 22-8 last season, advancing to the quarterfinals of the NCAA tournament.
"He has certainly been very successful as an all-around student athlete at Centreville," said Doyle. "I would expect that will continue."