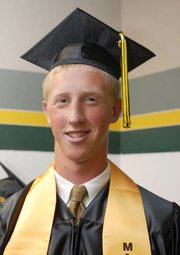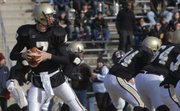 Mike Glennon entered his freshman year at Westfield High School with high hopes and an equal amount of pressure. Just one year after his older brother, Sean, lead the Bulldogs to a AAA Div. 6 Virginia state title, Mike Glennon suited up for the Bulldogs.
"Going into high school, I had the mentality to play varsity right away," said Glennon. A broken arm, however, forced Glennon to rethink his plans. During summer practice, Glennon heard a 'pop' after throwing a pass.
"I shattered the growth plate in my right elbow," he said. "I was out for the first six weeks of the season and it was never the same for the rest of the year."
It wasn't the start that the quarterback envisioned.
"It was very disappointing. What he had to do was sit on the sidelines the whole year," said his father, John. "He never missed a practice. He stuck with it, but that set him back a little bit."
By the first game of the his sophomore year, however, Glennon was staring under center for the Bulldogs – bringing back those same high hopes – and the same pressure.
"I think that there is underlying pressure no matter what," said John. "We did our best to keep him grounded. We tried to play down the expectations because, quite frankly, Sean had achieved so much success that we knew from a probability perspective that it is hard to match that. There certainly wasn't any outward appearance of the pressure but underneath his cool exterior, he was under a tremendous amount of pressure."
Westfield head coach Tom Verbanic took the same approach.
"All along, he was his own person," he said. "We really didn't try to compare the two at all."
<b>SIMILARITIES BEGAN TO</b> arise, however, as Glennon began his junior year at Westfield, his first as the Bulldogs No.1 quarterback. The younger Glennon displayed his brother work ethic, his arm, and his command of the field. Glennon also picked up his first scholarship offer to play for the University of Virginia, in the same Atlantic Coast Conference that Sean played in with Virginia Tech.
During his junior year, the 6-foot-6 Glennon completed 123 of 205 passes for 1,662 yards, with 18 touchdowns. By the summer before his junior year, Glennon committed to N.C. State, ensuring that he would join his brother in the ranks of ACC quarterbacks.
"The one thing that Mike was very good about was that he knew that he wanted to get to a place where he would be in an offense that fit his style of quarterback. He was very realistic and knew what he was looking for," said Verbanic. "He made the recruiting process fairly easy. He knew where he wanted to fit it."
One thing that was missing, however, was a state title of his own.
"When we were freshman, that was always our goal and we always had our eyes on that prize," said Glennon.
With a 42-14 win over Woodbridge last December, that goal was reached – capping Glennon's senior season in which he passed for 2,557 yards with 32 throwing touchdowns and six rushing scores.
"His goal was for us to go 15-0 and whatever way that suited us, he was happy to do it," said Verbanic.
Glennon will travel to N.C. State on July 6, to start summer school and work out with the team in preparation for the Wolfpack's 2008 season opener against South Carolina.