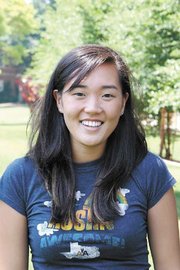 Kathleen So, 17, of Fairfax, a rising senior at Fairfax High School, was elected governor during the 62nd session of Virginia Girls State, a week-long citizenship seminar sponsored by the American Legion Auxiliary and held at Longwood University in Farmville.
So was elected June 18 to the highest office of Virginia Girls State. As governor, So presided over the 2009 Girls State session held at Longwood June 14-20.
At her high school, So plays field hockey and lacrosse and is active in the jazz/show choir, French honor society, student government council, INTERACT, and Class of 2009 officers. Following graduation she plans to attend college to major in marketing and business. She is the daughter of Steve and Kelly So of Fairfax.
Virginia Girls State, established in 1946, has been held at Longwood University since 1974. Six hundred rising high school seniors participated in this year's session.
Participants conduct the affairs of municipal government after breaking up into two parties and 14 cities.
Gov. Tim Kaine and Lt. Gov. Bill Bolling addressed the delegates during the week.