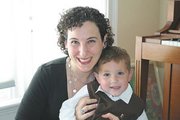 From her first job as a middle-school puppet maker to her current position as principal of Mark Twain Middle School, Aimee Holleb's focus has been on educating and communicating to young people. Here, she talks about herself and offers her point of view as a middle-school educator.
Number of years in the community. Grew up in Springfield and have been in Fairfax County for more than 30 years.
Education. B.A.: University of Delaware, elementary and special education; M.A.: University of Virginia, educational administration and leadership.
Your first job. My first job was having my own business as a puppet maker when I was in middle school. I was even featured in the Springfield Connection Newspaper for it.
Activities/Interests/Hobbies. Running, travel, photography, playing sports, reading, being with family and friends.
Favorite Local Restaurants. Mike's American Grill and Bonefish Grill.
Community Concerns. How can we build relationships between youth and community members across generations?
When you were younger, what did you want to be when you grew up. Oprah Winfrey.
Community "hidden treasure" you think more people should know about. Burke Lake .. the best circuit running trail. When the weather is warm, I'm there every weekend.
Personal goals. Serve the Fairfax County Public Schools community, continue to travel the world, run a full marathon, learn Spanish.
How did you begin working in the education field. When I was a kid, I babysat all the time. I knew I loved working with kids. Then, in high school, I began teaching drama classes to kids at a community center and was a summer camp counselor. In college I began my studies in education and loved it. Each summer of college, I worked at a sleepaway camp and experienced many leadership positions — drama director, unit leader, CIT director. Once I started my teaching career, I knew that public school education was the place for me. I've always been involved in leadership and held officer positions in school and community organizations since I was in high school. That's how I knew leadership was a great fit.
What, in your opinion, is the most important issue facing elementary-school-aged children today. The most important thing I can do as a principal is listen. Listen to the students. Listen to my staff. Listen to the community. Listen to my FCPS colleagues. People have a lot to say and will create the vision and actions needed in our continuous improvement design model if they just have time to generate and articulate their thoughts and ideas.
What do you enjoy most about your job. Advice to my middle school self: Every time you walk into a room, get to know each and every kid. Just start by saying, "Hi." They'll be glad that you made the first move because every middle-schooler just wants to make friends and "fit in." Oh, and take a foreign language in eighth grade. Everyone should be fluent in a second language — starting in eighth grade opens up the possibilities.