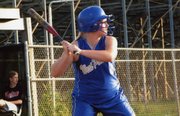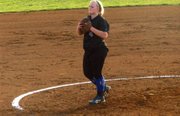 Standing on the mound, softball pitchers rely on intimidation. They usually grab the surrounding dirt, switch the ball in between gloves and incessantly and make ungodly facial expressions.
Elizabeth Crowe was no different. Only West Potomac's blonde ace, armed with a filthy rise ball, had a slightly less intimidating secret — she's a concert cellist. Having taken private lessons through middle school, Crowe performed in Sinfonietta Orchestra, the most advanced string performance class West Potomac offers.
Yes, the same recent grad that torched the Patriot District for 140 strikeouts to complement her 1.42 earned run average went home and practiced the same instrument she once played in the Executive Office Building of the White House.
"All of my friends wanted to play the violin, but I wanted to be different and try the cello," Crowe said. "I like the sound of it a lot better and was immediately attracted to it when I first heard a solo."
As if her reputation was on the line, consider that Crowe still had a .420 batting average, a .620 slugging percentage and 21 RBI's for the second-seeded Wolverines. Even though Crowe was an important cog at the plate, her biggest effect was on the mound. She had seven shutouts, including a four-game district streak when she didn't allow a single run.
"This year, I knew I had to step up and become a leader," said Crowe, who was voted the team's most valuable player for the past two seasons. "I had a lot more confidence this year than I had my junior year. I would try to pick people up if they made a mistake or let them pick me up if I made a mistake or had a bad inning."
Crowe will bring her talents to Mary Washington, a Division III liberal arts school in Fredericksburg, Va. next season, where she'll join two former Mount Vernon grads in Kirsten Rowell and Catherine Hull, both of whom will be juniors next season.
"I'm extremely proud of her," said Michael Crowe, her father. "She's one of those kids that in everything she does, she puts 100 percent effort into it. She may not be the most athletically gifted kid, but works really hard to get to the place that she is."
<b>ELIZABETH CROWE</b> CARRIES an honor roll report card, along with three years of experience on the varsity golf team and a 10th grade season on the varsity basketball team. She admits to following a best friend into golf, but cited it as "one of her favorite sports."
For now, she is focusing on a late-summer trip with USA Athletes International, Inc. (USAAI), a non-profit that gives high school athletes an opportunity to compete around the world. After being admitted through a rigorous selection process, Crowe will play in a tournament in Italy.
But her mind was still on graduation, which was a reminder of Renee Shelkin's tragic death a little over a year ago.
"It was definitely bittersweet because I know it will be tough to miss all of the people who you are probably not going to keep in touch with, no matter how much you say you will," Elizabeth Crowe said. "Once you finally get comfortable when you're a senior, you get pushed right out and you have to be a freshman again. It's tough."
Her father, meanwhile, knows his daughter is ready to go.
"She's ready to take that next step," Michael Crowe said.