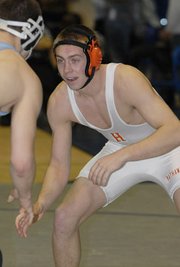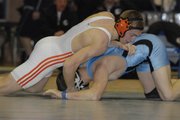 At graduation Daniel Mills wasn't about peering into the rear view mirror, celebrating his athletic accomplishments and reminiscing about old times. He's got bigger things to accomplish.
On Monday, Mills will leave for the Cadet Summer Training at the United States Military Academy in West Point, N.Y., where he will wrestle for the Black Knights next season. "My thoughts were already beyond high school nostalgia at that point," Mills said about last week's graduation. "I'm just ready to go and am ready for the next challenge."
According to Mills, if he managed to survive four intimate years of wrestling instruction from uber-intimidating coach, Roy Hill, he can handle any imposing Cadets and officers.
"As far as summer training, they say it's going to be hard because there's people in your face yelling at you, but anyone on the Hayfield wrestling team knows that after having coach Hill yell at you, there's nothing in the world that is going to make you more scared than that moment," Mills said on Tuesday. "Honestly, I'm really not intimidated by a couple of college kids yelling at me."
All kidding aside, Mills, a cross country runner and third-place state wrestler, visited the University of Maryland and the Merchant Marine Academy, but found West Point best suited his personality.
"West Point was clearly the place that I belong," Mills said. "It was the logical conclusion. I've always kind of thrived under structure. I really look forward to having my schedule filled up with challenges every day."
Mills is following his father and older brother, both of whom attended West Point. With a mother also in the Army, and the brother currently serving in Afghanistan, the five-year required military service wasn't a deterrent.
<b>MILLS CREDITS</b> his athletic background with giving him the discipline he'll required for his collegiate choice. He ran cross country, mostly to stay in shape for wrestling. "I've been running pretty consistently since I was in sixth grade," Mills said. "Running always helped me prevent injuries during wrestling and keep core strength."
But Mills, who wrestled at 189 pounds during his junior season got season and missed a critical national tournament in Fargo, S.D. He decided then to go ahead and move down to the 171-point classification.
It wasn't long after that, that Hill pulled Mills, his co-captain with Steven Ours, aside and wanted him to believe he could potentially be a state champion.
"When coach Hill expresses that amount of confidence in you, that's all he needs to say. He's not one to lie," Hill said.
Mills, who finished with a 74-33 career record, pledged to finish in the podium in every tournament throughout his senior season, and aside from a prestigious tournament in New York when he placed fifth, Mills kept true to his word.
After ripping through most of the Northern Virginia wreslters en route to the district and region individual crowns, Mills made a mistake in the state semifinals.
Facing Gar-Field's Porker Bowers, the 171-pounder tied the match with mere seconds left by executing an escape. Even though the referee could have given Mills two points for a reversal, the matched ended up in overtime, when Bowers won a 12-10 decision.
"As a rule of thumb, wrestlers aren't supposed to try high-risk moves in overtime," Mills said. "I wasn't really thinking at that point, I was just going on instinct."
But according to Hill, Mills really showed his character in the consolation match when he used one of his patented pins from his feet in the second round.
"I thought it was very appropriate way for him to end his career," Mills said. "He's got quite a few wins over the years when he's been down and able to pin somebody while he's on his feet. That's one quality that sets him apart from the rest of the crowd."