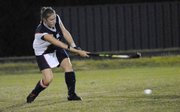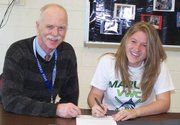 Tara White, the youngest daughter in a field hockey crazed family, will have a different coach on the sideline next season. For the past 12 years, her mother, Ginger White, has been manning the coaching duties either at her daughter's field hockey or soccer games.
Now Joyce Anne Koubaroulis, whom Tara White referred to as Coach K, will be in charge of her athletic development, as she heads to Virginia Wesleyan College with a Presidential Scholarship in tow.
"People think [my mom] treats me like a daughter, but personally, I think I get it worse because if I mess up, she's allowed to yell me," Tara White said. "Even worse, People get to leave her on the field. If I get told something, then she'll tell me at home no problem." Even though the dinner table discussions might have been one-sided, the daughter reaped plenty of benefits, including being named the National District Player of the Year for the past two seasons.
As a three-year captain, the sweeper finished her four-year Eagle career with 19 goals and 45 assists, missing only one game due to injury. She earned multiple honorable mention all-state honors, along with three consecutive years on the first-team All-Northern Region squad.
But Tara White is most proud of the team accomplishments, having helped Edison to three straight National District championships. After losing to Mount Vernon in the 2007 regular season, the Eagles weren't the favorites heading into the title game against the Majors at Washington-Lee. But after graduating eight seniors in 2006, she helped lead her mother's team back to the team title.
"Tara possesses the ability to have others step up as well as follow her lead," Ginger White said. "She is well liked and respected by her teammates, classmates, peers (male and female alike) teachers and coaches. Tara will be missed on the hockey field and in the halls of Edison."
<b>IN HER FAMILY</b>, elder sister Lauren White, who played on the George Mason club team and was a recent Edison assistant, was hired at Hayfield.
"Field hockey really didn't come into the play until my sister hit freshman year," Tara White said. "Now, we do everything field hockey because we've spent 100s of miles in the car together, going to tournaments and going to games. We're inseparable. Next year, it'll be weird."
"Even as she jokes that she won't know to do when she won't have to face Koubaroulis nightly, Tara White admitted to having to undergo an adjustment.
"Coach K is awesome," Tara White said. "It really seems like an Edison program so I can relate that way. The girls on the team are so relaxed — I know I'll fit right in with them."